U.S. Hedge Fund Calls For Sony Entertainment Spin-Off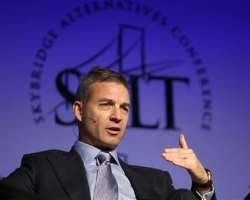 Billionaire hedge fund investor Daniel Loeb on Tuesday called on Sony Corp to spin off its lucrative entertainment arm, setting the stage for a clash between his activist Wall Street fund and management at the Japanese electronics maker.
Loeb said his Third Point hedge fund had accumulated a little more than 6 percent of Sony's shares - a stake worth $1.1 billion - making it the largest stakeholder in the inventor of the Walkman portable music player and Trinitron TV.
In a letter Loeb personally delivered to CEO Kazuo Hirai at Sony's headquarters, the fund manager said Third Point was willing to put up another 200 billion yen ($1.97 billion) to support an initial public offering of up to a fifth of the entertainment arm, which includes one of Hollywood's top film studios and a leading music label.
Loeb, 51, is one of the best known figures in the secretive hedge fund industry with a record of clashing with corporate executives over strategy, including engineering a successful boardroom shake-up at Yahoo Inc last year.
"HIDDEN GEM"
In his letter, Loeb endorsed Hirai's attempts to revive Sony, but said the problems of the company's electronics business distracted from the value of U.S.-based Sony Entertainment, an asset he called a "hidden gem".
Loeb said the proposed spin-off of a unit that is home to artists such as Beyonce and Adele and produced movie franchises like "Iron Man" and "Spider-Man" could add another 60 percent to Sony's stock price.
While Sony has sold off real estate and other assets to cover losses on consumer electronics, Hirai sees the entertainment business as core to the company's long-held vision of marrying content and hardware.
"The entertainment businesses are important contributors to Sony's growth and are not for sale," Sony said in response to Loeb's proposal. "We look forward to continuing constructive dialogue with our shareholders as we pursue our strategy."
Hirai, a 52-year old Sony veteran who started his career in the music business, is due to give an update on his strategy for the company at a briefing in Tokyo on May 22.
JAPAN CHALLENGE
Sony shares have already doubled this year amid a rally in Japanese shares as foreign investors bet economic policies of Prime Minister Shinzo Abe will pull the economy out of a two-decade slump.
Loeb cited the hopes for economic reforms raised by Abe in making his case for change at Sony.
"Sony stands at the crossroads of compelling corporate opportunity and massive Japanese economic reform," Loeb wrote in the letter, which was made available to media. Corporate leaders like Hirai, he added, "can spearhead this important growth."
Third Point's flagship fund posted a return of 10.5 percent for investors in January-April, a time when the rest of the hedge fund industry lagged with an average return of just under 5 percent. The fund was helped by its positions in Yahoo, a bet on Greek government bonds and its holdings of Japanese shares.
After taking a stake in Yahoo, Loeb agitated successfully to oust the CEO and members of the Internet company's board after charging that directors were living in "an illogical Alice-in-Wonderland world."
But Loeb does not have a well-known track record in Japan where activist investors have had little success, rebuffed by corporate boards packed with insiders and creditor banks that tend to side with management in maintaining the status quo.
Investors and analysts have argued for years that Sony could be worth more in a break up because of a decade-long slump in its electronics business as it ceded ground to rivals such as Apple Inc in portable music and Samsung Electronics in flat panel TVs.
RIGHTS OFFERING
Rather than a traditional IPO, Loeb has proposed selling a 15-20 percent stake in Sony Entertainment through a rights offering to existing Sony shareholders. The move would allow the parent company to shift some debt off its balance sheet.
Taking the unit public would provide incentives for its executives to run the operations more efficiently. Raising its profit margins to the industry average could in theory add another 625 billion yen in market value, Loeb said.
Loeb cited Sony Financial, the profitable insurance arm that was spun-off but is still majority-owned by Sony, as an example of how the move could be beneficial for the group.
Most importantly, the cash generated could be used to help streamline the electronics business, which suffers from a lack of focus even after Hirai took the helm from former CEO Howard Stringer in 2012, Loeb said.
Hirai's strategy to revive Sony in consumer electronics is to focus on cameras, PlayStation game consoles and smartphones.
Loeb's proposal could trigger buying of Sony's stock, said Tetsuro Ii, chief executive of Tokyo-based fund manager Commons Asset Management. Sony closed Tuesday up 1.2 percent at 1,877 yen, valuing the entire company at $19 billion.
"Be it Sony or Panasonic, at the end of the day these electronics companies have to do something. It's not a bad thing that this option exists," Ii said.
REUTERS