Acting President Issues Statement Alleging Campaigns Against Him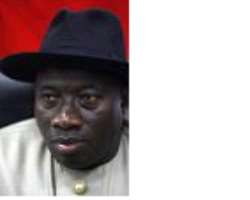 On Wednesday night, the Acting President issued another strong statement through his media spokesman, Mr. Ima Niboro alleging plans by some persons who have set aside billions of naira towards discrediting the administration and bringing it down. The statement reads:
Of N300 Billion And Other Absurd Tales!
"Today, the first installment of the planned and well coordinated media onslaught against the Acting President, Dr. Goodluck Ebele Jonathan, was published in a national newspaper alleging that he approved the expenditure of a whopping N300 billion, 'for both pro-Yar'Adua rallies and those that were in his interest.' The report also claimed that members of the National Assembly were bribed to do their patriotic duty to save the nation from drift.
"It can be recalled that a few days ago, there was an allegation of a purported release of two billion US dollars from the Excess Crude Account to governors to facilitate their endorsement of Jonathan as Acting President. While we commend the Chairman of the Governor's Forum, Dr. Bukola Saraki, for dealing satisfactorily with that allegation in a rejoinder, it is interesting to note that two billion dollars translate to roughly N300 billion. There is, therefore, no question that both allegations emanate from the same source.
"We know those behind these publications. Nigerians have come to know them as careerists in power. But we see them as misguided elements determined to exceed their call of duty and play God over the affairs of the Nation. They are wicked and ungodly and their time is up! Never, again, must we allow our nation to be strangulated by a privileged few who will rather fiddle with our common wealth while the nation burns.
"We are aware that they have set aside a huge war chest in billions of naira to bring the Jonathan Acting Presidency to disrepute by any means possible. It is, therefore, hardly surprising that as cunny as these allegations obviously sound, they still get mention in our media space. We are fully on the tracks of this so-called group; this unfortunate band of liars. In the fullness of time, they shall be brought to book.
"We find no need to dignify the N300 billion allegation with a response. What is more, those selling this lie are careful to state that the money was procured from a certain businessman, who is to be settled in a matter of weeks by 'a huge oil contract.' Three hundred billion naira sourced from one man at a go? We demand to know who this businessman is. Anyone that keeps liquid cash of N2 billion dollars to bribe people belongs only in jail! Huge oil contract? Maybe Nigerians need to ask those who have been involved in handing out such contracts how such quid pro quo deals are done.
"Let me use this medium to reiterate that we shall not be deterred by campaigns of calumny or any other method whatsoever in our collective efforts to reform this nation, and change our ways of doing things once and for all. The acting president is determined, and he is counting on the total support of all Nigerians."