FG To Deploy Newly Invented Anti-Terrorism Balloons For Intelligence Gathering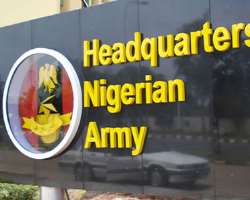 SAN FRANCISCO, May 08, (THEWILL) – The Nigerian Army appears ready more than ever to combat the growing insecurity in the country headlong.
On Wednesday in Ibadan, the Oyo State capital, it confirmed that it has invented balloons which will be used in information and intelligence gathering to tackle the various acts of terrorism in the country.
The balloons, according to the General Officer Commanding (GOC), 2 Div., Major General Ahmed Tijani, were actually unveiled in April 2012.
But speaking at a lecture,titled Transforming the Army into a force better able to meet to meet contemporary Challenges,Tijani however disclosed that the balloons had been upgraded and enhanced with capacity to travel 84 kilometres when launched into space.
Guest speaker at the occasion, Brigadier General Nwokoro Ijioma, told officers of the 2 Div who were participants at the lecture , that the balloons would be deplored to the hotbeds of terrorism attacks in the country.
Ijioma who is also the Director, Lesson Learnt Army Transformation and Innovation Center (ATIC), Army Headquarters, Abuja, added that the growing wave of terrorism has necessitated the mounting of roadblocks in some parts of the country.
Maintaining that the Army Transformation and Innovation Centre (ATIC) serves as a fulcrum for driving the transformation agenda of the Chief of Army Staff, he said the innovation part of the department serves as a forum for officers to meet contemporary challenges in military operations.
According to Ijioma, ATIC is aimed at repositioning the Nigerian Army to effectively meet contemporary challenges in a dynamic security environment.
"The ATIC has been tasked to optimise in practical terms the implementation strategy of the COAS vision by providing the lead and guidelines for promotion of improvements through reduced operational risks, increased efficiency and improved operational effectiveness," he said.
He noted that the ATIC concept was informed by the enormous challenges posed by the emerging threats and developments.
"The Nigerian Army could ill afford to be left behind in the current revolution in military affairs which other militaries over the world have already keyed into.
"Therefore, the Nigerian Army has taken transformation and innovation as the threshold to meet emerging contemporary challenges through improved capacity building and equipment modernisation," he said.