Anambra guber: EFCC can't be used to distract me –Ubah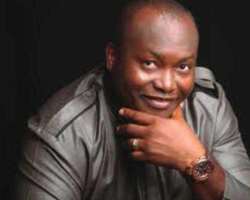 Businessman and oil magnate, Chief Ifeanyi Uba has said the use of the Economic and Financial Crimes Commission (EFCC), by his detractors will not distract his focus on winning the governorship election in Anambra State. Uba spoke at the weekend in Enugu when he accompanied the Zimbabwean Prime Minister, Morgan Tsvangirai during a courtesy visit to Chief Arthur Eze in his Enugu residence.
Said he: "I have a vision to lead my people to the promised land, therefore I cannot allow myself to be distracted; I cannot be distracted, it's all part of the game and we understand it quite well. In fact the whole thing is even making me more popular, so its welcomed, the people know who I am and they know what I am capable of doing." Uba, who is also the Chief Executive Officer (CEO) of Capital Oil said his top priority when he becomes the next governor of Anambra Sate would be to reduce the rate of crime in the state: "We have the best solution to bring crime to its lowest level and then we need to change the face of Anambra State through industrial revolution.
We intend to bring the business angle into leadership to drive the economy of the state. He revealed plans to set up between 50 to 100 small and medium scale industries in every local government of the state in the first one year, making it over 2000 industries to boost the economy of the state and at the same time create employment for the people.
"We want to feed the nation through Anambra State." "In our first two to three years, we are going to work with technocrats in governance and work with businessmen in leadership so that we can let the world know the potentials of the state. "We are going to improve our education system, introduce computers to primary schools in the state, build world class diagnostic health centres in the state so that our people will stop going to India.
This will boost the economy of the state. We want to achieve a 24-hour power supply in Anambra State through the reserve we have in gas and tapping resources from the bank of River Niger using our partner in Delta State and other places to support our power plant through gas piping." "I want to maximise the full potential of Orient Oil because government has a stake and generate full petrochemical content through which thousands of youths will be employed."