Egypt To Reshuffle 11 Ministers, Including Oil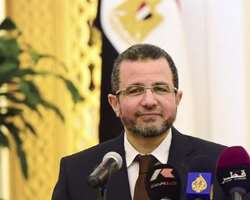 EGYPT'S PRIME MINISTER HISHAM KANDIL
The Egyptian prime minister said on Monday that 11 ministers would be changed in a cabinet reshuffle that is expected to include the ministry of petroleum but will fall short of opposition demands for a complete overhaul.
President Mohamed Mursi announced on April 20 that he would reshuffle a cabinet widely criticized for failing to revive an economy facing a deep crisis because of more than two years of political turmoil.
The reallocation has taken longer than Prime Minister Hisham Kandil originally expected. He said the changes would be announced later on Monday or on Tuesday, before Mursi heads off for a state visit to Brazil.
Kandil did not list the ministers to be changed in a cabinet that comprised 27 ministers and four ministers of state after the last reshuffle in January.
But earlier he met Sherif Haddara, chairman of the Egyptian General Petroleum Corporation. He is expected to take Osama Kamel's job as oil minister.
He also met Amr Darrag, a senior member of the Muslim Brotherhood's Freedom and Justice Party, who is expected to take over the ministry of higher education, replacing Mostafa Mussad, another Brotherhood member.
The opposition had called on Mursi to replace Kandil and install a neutral government to oversee parliamentary elections later this year.
"As long as they don't change the prime minister, we can't see serious change in cabinet," said Khaled Dawoud, spokesman for the National Salvation Front, a loose alliance of non-Islamist parties.
The Kandil government has been widely criticized for failing to draw up policies capable of reviving the economy. Talks with the International Monetary Fund for a $4.8 billion loan have yet to yield an agreement.
REUTERS