Anti-EU Party Shakes British PM's Conservatives In Local Vote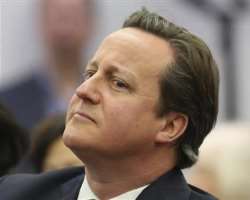 BRITAIN'S PRIME MINISTER DAVID CAMERON WAITS TO SPEAK IN THE NEWLY OPENED 'LI KA-SHING CENTRE FOR HEALTH INFORMATION AND DISCOVERY' AT OXFORD UNIVERSITY IN OXFORD, SOUTHERN ENGLAND MAY 3, 2013.
The anti-European Union UK Independence Party made big gains in local elections on Friday, siphoning support from British Prime Minister David Cameron's Conservatives in a vote that underlined the threat it poses to his re-election chances in 2015.
Its success in council elections in mostly English rural areas that have traditionally been Conservative strongholds rattled Britain's three main parties, as voters deserted their ranks to switch allegiance to the populist group.
UKIP, which wants Britain to leave the European Union and an end to "open-door immigration", polled an average of 26 percent of the vote in council elections, according to early results, the best result for a fourth party since World War Two.
It also pushed Cameron's Conservatives into third place in an election for a national parliamentary seat in a traditional Labour stronghold in northern England, where Labour's majority was almost halved compared to three years ago.
"It sends a shockwave, I think, through the establishment," said Nigel Farage, the former commodity trader turned politician who leads UKIP.
Cameron once dismissed UKIP as "a bunch of fruitcakes, loonies and closet racists," and a senior Conservative minister called the party "a collection of clowns" before the vote.
"Send in the clowns," Farage quipped to Sky News. "We have been abused by everybody, attacked by the entire establishment who did their best to stop ordinary decent people from going out and voting UKIP and they have done in big, big numbers."
Though UKIP still has no seats in the 650-seat lower house of the British parliament, its surge in the polls will increase pressure on Cameron from nervous lawmakers in his own party to take a tougher stance on Europe and immigration.
The results suggest UKIP could split the center-right vote at the next national election. That would make it harder for Cameron to defeat Labour, which leads his Conservatives by up to 10 percent in opinion polls as the economy shows tentative signs of recovering despite unpopular public spending cuts.
"SHOCKWAVE"
While the results are likely to reignite questions about Cameron's leadership from malcontents who complain he is too liberal, they will also concern Labour leader Ed Miliband, who faces growing UKIP support in traditional Labour strongholds.
Although Labour, which has controlled the South Shields since 1935, held onto the parliamentary seat, UKIP won 24 percent of the vote in South Shields, its second highest result in such an election. Turnout was low at 39 percent.
"They have become a populist, center-right, 'small c' conservative party of protest and they will be sapping votes from the Conservatives who are unpopular mid-term but also from the other parties as well," Tony Travers, director of British government at the London School of Economics, said of UKIP.
The Lib Dems, the junior partner in Cameron's coalition, are also under pressure. They won so few votes in South Shields they lost their deposit and early results for the council elections showed their vote was also down.
Early results showed UKIP had won 77 council seats after 28 of 35 councils had been declared. Full results of the elections for more than 2,000 council seats in England and Wales are expected later on Friday.
Although the Conservatives are expected to lose hundreds of seats, they are still likely to win overall because the vote was held in their own heartlands.
Critics say UKIP's success means it will come under increasing scrutiny and that voters will ultimately find it does not have properly-developed policies, a claim UKIP rejects.
Farage says Britain's political leaders have failed voters by allowing far too many immigrants into the country and by allowing the European Union to purloin too much sovereignty.
Grant Shapps, the chairman of the Conservative party, said his party, the senior partner in a two-party coalition, had heard the voters' message "loud and clear".
But the real choice at 2015 parliamentary election would be between Labour and the Conservatives, he said.
Though significant, UKIP's gains are unlikely to give it control of a single council and Britain's first past the post system means it will have to poll even greater numbers if it is to win a large number of seats in a general election.
"It is a worry for all three party leaders," Travers from LSE said. "None of us knows whether UKIP is a flash in the pan."
REUTERS