Corruption: Justice Auta Seeks Removal Of Option Of Fine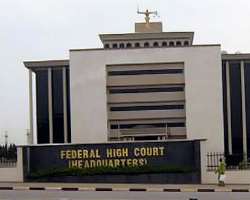 ABUJA, April 30, (THEWILL) – The Chief Judge of the Federal High Court, Justice Ibrahim Auta, Tuesday, called for the removal of the option of fine in corruption-related offences in the dispensation of justice in the country as a measure to strengthen the war against corruption.
The chief judge, who made the call at a one-day public hearing on The administration of Criminal Justice Bill 2013 organised by the House Committee on Justice, explained that it is only when penalties are strict that people are scared of indulging in crime.
"When penalties are stiffened, the incident of commission naturally comes down but when they are relaxed, the opposite is the case. Corruption related offences should not have any option of fine," he said.
Drawing analogy from the recent case involving a former Pension Director, Auta said "Most of us still remember the hue and cry that greeted the discretion a judge recently exercised in favour of imposing a fine of N750,000.00 on a culprit who had allegedly stolen money running in billions. "
The Chief Judge said, "To most Nigerians, that sounded like a slap on the wrist, but if there were no option of fine, at least seeing the offender cooling off in prison would have somewhat psychologically therapeutic. "
He observed that "corruption is the only reason that can explain the snail's speed at which the administration of criminal justice is moving in Nigeria and if it is not checked, it will be curtains for judicial growth in Nigeria. "
Earlier, Speaker of the House of Representatives, Aminu Tambuwal, said "as a country, we need to pay more attention to our laws, particularly those pertaining to the system of criminal justice administration."
He assured that "The House of Representatives is determined to pass this Bill into law and would therefore eagerly await the outcome of the public hearing."

The Chief Justice of Nigeria, Justice Mariam Alooma Muktar, represented by Justice Kumai Akkas, said "the administration of Criminal Justice Bill is a proposal for any Act to make provision for speedy and efficient administration of Criminal Justice in courts. "
In his welcome remarks, Chairman of the House Committee on Justice, Hon Ahmad Ali, said "the bill has , through much scrutiny, and the administration, contains several innovative and creative ideas."