Stalemate Over, Italy's Letta Names New Government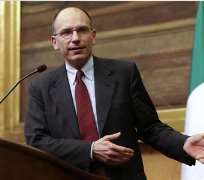 Italian center-left politician Enrico Letta named a coalition government on Saturday, making one of Silvio Berlusconi's closest allies deputy prime minister and ending two months of damaging political stalemate.
Letta has said his priorities would be the economy, unemployment and restoring faith in Italy's discredited political institutions as well as trying to turn Europe away from austerity to focus more on growth and investment.
An inconclusive general election in February left Italy, the euro zone's third-largest economy, without effective government, threatening investor confidence and holding up efforts to end a recession set to become the longest since World War Two.
Letta, the 46-year-old deputy head of the Democratic Party (PD), said he felt "sober satisfaction" after three days of talks with rival parties produced a government that included a record number of women ministers but few political big hitters.
"I hope that this government can get to work quickly in the spirit of fervent cooperation and without any prejudice or conflict," President Giorgio Napolitano said.
The anti-establishment 5-Star Movement has refused to join a government which party leader Beppe Grillo said "bordered on incestuous" given the relationship between Letta and his uncle Gianni Letta, Berlusconi's long-time chief of staff.
Angelino Alfano, secretary of Berlusconi's People of Freedom (PDL) party, will be deputy prime minister and interior minister, giving the center-right a strong voice.
But otherwise the big ministries were dominated by lower profile politicians or technocrats, which could limit their power to pass unpopular measures and leave a powerful backstage role for Berlusconi, who will not be joining the government.
The cabinet, which Letta said would contain a record number of women, will be sworn in at 05.30 EST on Sunday before a parliamentary vote of confidence, expected on Monday.
Napolitano asked Letta, a career politician on the right of the PD, to try to form a government after a dramatic week in which party leader Pier Luigi Bersani was forced out by a factional mutiny.
The PD's centre-left alliance won control of the lower house in the February election but fell short of the Senate majority needed to govern, exacerbating tensions in its ranks.
The still-unhealed divisions could affect the stability of the new government given the resistance felt by many in the PD to any alliance with Berlusconi, their foe for almost 20 years.
ENCOURAGEMENT
Letta received some encouragement late on Friday when the ratings agency Moody's kept its rating on Italian government debt unchanged at Baa2 because low interest rates were making it possible to buy time to implement much-needed reforms.
Bond yields have fallen to their lowest in more than two years as investors hope for enough stability to help Italy revive its economy and gradually tackle its large public debt.
However, Moody's also said medium-term growth prospects were weak and forecast the economy would shrink by 1.8 percent this year, compounding more than two decades of stagnation.
Berlusconi, in the middle of legal battles over a tax fraud conviction and charges of paying for sex with a minor, had pressed for the cabinet to include close political allies and opposed the inclusion of technocrats.
In the event, however, several of the big ministries were led by non-political figures, with Bank of Italy Director General Fabrizio Saccomanni becoming economy minister.
Anna Maria Cancellieri, a former police official who served as interior minister under Monti, took the justice portfolio and the labor ministry went to Enrico Giovannini, head of statistics agency ISTAT.
Former European Commissioner Emma Bonino will be Italy's first woman foreign minister and Congo-born Cecile Kyenge, named minister for integration, will be its first black minister, according to the Corriere della Sera daily.
REUTERS