Jonathan Approves N5.7 bn For Victims Of 2011 Post-Election Violence In Nine States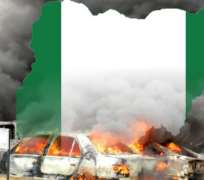 SAN FRANCISCO, April 25, (THEWILL) – President Goodluck Jonathan, Thursday, approved the release of a total sum of N5,747,694,780.00 to nine states of the federation for direct disbursement to those who suffered losses of properties, means of livelihood and places of worship in the post election violence of 2011.
The approval was based on the recommendation of the Sheik Ahmed Lemu-led Panel of Enquiry constituted by the Federal Government to among other things, identify the spread and extent of losses suffered across the country in the wake of the violence.
A statement signed by the Special Adviser to the President on Media and Publicity, Dr. Reuben Abati, Thursday, said following the submission of the Lemu Panel's report and its adoption by the Federal Executive Council, the Federal Ministry of Lands and Housing was mandated to assess the reported losses and damage to properties in all affected states.
Giving a breakdown of the total sum of N5,747,694,780.00 released to the nine states, the statement said: "Based on the Ministry's report, President Jonathan has approved the release of funds to nine of the 14 affected states as follows:
Bauchi - N1,574,879,000.00;
Sokoto - N55,888,506.00;
Zamfara - N93,253,485.00;
Niger - N433,375,875.00;
Jigawa - N208,667,634.00;
Katsina - N1,973,209,440.00;
Kano - N944,827,000.00;
Adamawa - N420,089,840.00; and
Akwa Ibom - N43,504,000.00."
The statement added that "President Jonathan has also directed that an Implementation Committee for the disbursement of the funds to beneficiaries in the nine states be constituted as follows:
Executive Governor or Deputy Governor - Chairman;
Representative of State Government - Member;
Secretary of the Sheik Lemu Panel - Member;
Representative of the OSGF - Member;
Representative of the FMLH&UD - Member."
It however noted that "inspection and assessment of damages and losses suffered are yet to be carried out in Borno, Yobe, Gombe, Kaduna and Nasarawa States," saying "modalities and further instructions for the exercise are still being expected from the state governments."
The statement said "Funds to cover the losses sustained by victims of the post election violence in theses five states will be approved and released at the conclusion of the assessment exercise."