NEC Committee on Power to Submit Report Today, Obi says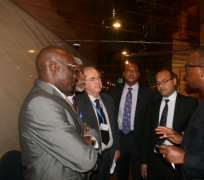 National Executive Council Committee on Reinvesting Plan for Power Sector is set to submit its report to the Vice-President today. This was disclosed yesterday by a member of the Committee and Governor of Anambra State, Mr. Peter Obi after the meeting to review the reports of the Committee at Transcorps Hilton, Abuja yesterday.
Obi who decline to talk to the press on the insistence that it is the Chairman of the Committee, Governor Liyel Imoke of Cross River State that should address the press if need be, when pressed harder said that the Committee was set up as part of efforts by the present Government to find lasting solutions to power problem in the country.
Speaking further, he said President Goodluck Jonathan and the Governors were committed to the issue of the problem of power in the country and were doing everything possible to find lasting solutions to the problem. "In view of how serious the President as well as the Governor take the matter, I assure you that power problem will soon become a thing of the past", he said.
On snippets from the report, Obi said: " I am not the Chairman of the Committee. It is only the Chairman that can do that. In any case, the report will be presented tomorrow 9Today), while not wait and the entire report will be made available to the press", Obi said.
It will be recalled that the Committee was set up by National Executive Council to review the technical report on the power sector and to recommend best ways for investment in the sector.
Chaired by the Governor of Cross River State, Liyel Imoka; the Governors of Anambra, Peter Obi; Kogi, Idris Wada; Katsina, Ibrahim Shema; Minister of National Planning, Dr, Shansuddeen Usman; Chief Executive of Transmission Company of Nigeria, Don Priestman; Principal Consultant, Energy Sector Practice, Dr. Cezley Sampson,; the MD of Niger Delta Power Holding, J. A Olutu, among others were present at the meeting.