No More Congratulatory Messages, Solidarity Visits – Jonathan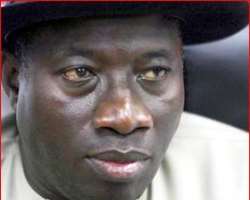 PHOTO: ACTING PRESIDENT GOODLUCK JONATHAN.
San Francisco Feb 15, (THEWILL) – Acting President Goodluck Jonathan has requested that advertisements in the media congratulating him on his acting president status should be stopped. He also banned solidarity visits to him in Aso Rock.
In a statement signed by the acting president's media adviser Mr. Ima Niboro, the acting president said "The nation is at a critical juncture where we must begin to focus on solutions to the daunting challenges before us," while acknowledging that the acting president was open to invaluable advice and suggestions from "all walks of life on moving the nation forward."
Since Dr. Goodluck Jonathan became acting president he has received numerous visitors especially politicians who had visited him to express support on his new status.
The statement reemphasized government's commitment "to secure Nigeria's path to greatness and guarantee our place among the great nations of the world in the shortest possible time."
The acting president according to a presidency source wants to get the administration on a fast track so that it can deliver on all the promises he made during a broadcast to Nigerians on Tuesday last week.
|
Article source