Wall Street Ticks Mostly Lower On Earnings Uncertainty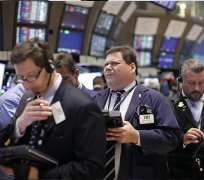 Stocks were mostly lower on Monday as a mixed bag of corporate earnings pointed to an uncertain growth outlook, which could lead to more volatile trading ahead.
While a majority of S&P 500 companies that have reported earnings so far have topped analysts' expectations, as is typical, a number of high-profile disappointments have raised questions about whether the market's steep run so far this year may be out of gas.
General Electric Co (GE.N) and McDonald's Corp (MCD.N) both fell for a fourth straight day, extending declines from Friday, when both Dow components reported lackluster results. GE is down more than 8 percent over the past four sessions and on Monday, it fell 2.1 percent to $21.29. McDonald's lost 1.2 percent to $98.66 in midday trading on Monday.
"Weak corporate outlooks have added to the growth fears that are making investors more risk averse," said Eric Green, senior portfolio manager at Penn Capital Management in Philadelphia. "Ultimately, we think cyclical names will lead the market higher, but in the short term, the decline could continue."
Wall Street is coming off a week of extreme volatility, with the CBOE Volatility Index .VIX jumping 24 percent, the biggest weekly gain for the so-called fear index this year. The VIX was up 1.9 percent at 15.26 at midday on Monday, off its intraday high of 16.00.
Caterpillar Inc (CAT.N) cut its 2013 profit outlook, but the Dow component rebounded off earlier lows after the company's chief executive said the mining sector had hit a bottom. Caterpillar's stock was up 0.4 percent at $80.71, off its session low of $79.50.
Halliburton (HAL.N), the oil field services company, rose 4 percent to $38.70 after the company posted quarterly results and said it is in talks to settle private claims against it in a trial.
With 104 S&P 500 components having reported results through Friday, 67.3 percent of companies have topped profit expectations, according to Thomson Reuters data. Analysts expect earnings growth of 2.1 percent this quarter, up from expectations of 1.5 percent at the start of the month.
The Dow Jones industrial average .DJI was down 49.18 points, or 0.34 percent, at 14,498.33. The Standard & Poor's 500 Index .SPX was down 0.67 points, or 0.04 percent, at 1,554.58. The Nasdaq Composite Index .IXIC was up 9.03 points, or 0.28 percent, at 3,215.08.
Investors will be looking to the S&P 500's 50-day moving average of 1,544.74, which could serve as a level of market support. The index closed under that level for the first time this year on Thursday, but rebounded above it on Friday.
The S&P 500 posted its worst week of 2013 last week, largely on weak corporate earnings and signs of slowing growth from China, which led to a steep drop in commodity prices. Last week's decline fueled talk that the market's long anticipated pullback had arrived, though the S&P 500 remains up nearly 9 percent on the year.
The Nasdaq held in modestly positive territory on strength in Microsoft Corp (MSFT.O), which jumped 3.5 percent to $30.81 after CNBC reported that ValueAct Capital had taken a $2 billion stake in the company.
Netflix Inc (NFLX.O) was the S&P 500's top percentage gainer, up 4.9 percent at $171.43. The online movie rental company is set to report its results after the market closes.
The National Association of Realtors said existing home sales slipped 0.6 percent last month to a seasonally adjusted annual rate of 4.92 million units. Economists polled by Reuters had expected home resales to rise to an annual rate of 5.01 million units.
Power-One Inc (PWER.O) soared 56.4 percent to $6.32 in after ABB (ABBN.VX) agreed to buy the company for about $1 billion.
CECO Environmental Corp (CECE.O) agreed to buy Met-Pro Corp (MPR.N) for $210 million, driving Met-Pro shares up 38.5 percent to $13.30. CECO fell 3.2 percent to $10.76.
REUTERS