Caterpillar Profit Misses, Cuts Outlook On Weak Mining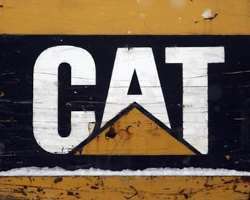 Caterpillar Inc posted disappointing quarterly results and cut its 2013 profit forecast on Monday to reflect a drop in demand for heavy equipment from its mining customers, and its shares turned lower in early trading.
But Chairman and Chief Executive Officer Doug Oberhelman said the mining sector has hit bottom and production was expected to ramp up in the second quarter, based on lower inventories in China and the United States.
The Peoria, Illinois-based company said it now expects to report a 2013 profit of $7 per share on sales of $57 billion to $61 billion. That was down from a previously estimated profit of between $7 and $9 a share on sales of $60 billion to $68 billion.
"Mining is the big culprit," said Longbow Research analyst Eli Lustgarten. "The key question now is not 2013, but 2014 - will it be up or down?"
The news came as Caterpillar, the world's largest maker of construction and mining equipment, reported a weaker-than-expected first-quarter profit.
The company said it earned a profit of $880 million, or $1.31 a share, down from $1.59 billion, or $2.37 a share, in the year-ago quarter.
Analysts had expected the company to report a profit of $1.40 per share. Sales during the period fell 17 percent to $13.20 billion.
Alexander Blanton, a senior analyst at Clear Harbor Asset Management, said Caterpillar's 9 cent EPS miss was "well within the usual plus or minus 10 percent range," typical for the company.
Caterpillar also said on Monday that it would resume a share buyback for the first time in five years.
Larry De Maria, an analyst at William Blair & Co, said Caterpillar's decision to resume the "mothballed" repurchase program was a "positive factor" and probably was contributing to the market's sanguine reaction to the disappointing results and outlook.
Under that plan, which was approved in 2007, Caterpillar could buy back as much as $3.7 billion of its shares before the repurchase authorization expires in December 2015.
CEO Oberhelman said the revised 2013 outlook reflects a sales decline of about 50 percent from 2012 for traditional Cat machines used in mining.
However, Oberhelman suggested optimism, telling CNBC that it was the first time in three years he has seen relative stability around the world, noting inventories in China and the United States have come down significantly.
"We don't want to be overly optimistic but it certainly feels better than the last two springs," he said.
The decline in first-quarter sales was led by a drop in revenue from mining products, which plummeted 23 percent. Sales of construction equipment fell 17 percent and sales of gas and diesel power systems declined 12 percent, the company said.
With mining orders falling because of a price slump in many commodities, including coal, Caterpillar needed a strong rebound from other customers, including residential construction, to offset that weakness.
But that increased demand from builders has not materialized fast enough, in part, because some jumped the gun last spring when unseasonably warm weather combined with signs of the nascent economic recovery in the United States prompted many construction equipment customers to place orders for new machines. In the end, the optimism proved to be a little premature, Lustgarten said.
Clear Harbor Asset Management's Blanton said Oberhelman's optimism about China seemed to be borne out by the company's sales there, which were higher in the first quarter of 2013 than they were in the comparable quarter last year.
Caterpillar has warned investors about the weakness in the mining sector several times, most recently earlier this month, when it laid off 11 percent of its workforce at the Decatur, Illinois, plant that makes mining equipment.
In January, the company also specifically warned that results for the first quarter would be "well below" those posted during the same period last year as dealers, awash in product, tried to sell off existing inventory before placing new orders.
Robert Wertheimer, a principal at Vertical Research Partners, said the drop in mining orders that Caterpillar was experiencing was "in line" with what its rivals were seeing. "We met with several competitors last week and they all seem to be having similar experiences," Wertheimer said. "It's not a (market) share issue at Caterpillar."
In morning trading on the New York Stock Exchange, Caterpillar's shares turned lower, down about 1 percent, or 73 cents, at $79.70, well below its 52-week high of $108.79 but above the low of $78.25.
REUTERS