Edo LG Poll: PDP Faults ACN, Alleges Shoddy Preparations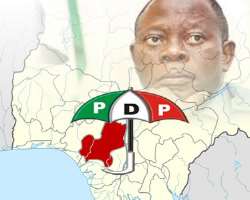 GOVERNOR ADAMS OSHIOMHOLE OF EDO STATE
SAN FRANCISCO, April 21, (THEWILL) - The Peoples Democratic Party, PDP, has described as shoddy and irregular, the preparations for the conduct of the last Saturday's Local Government elections in Edo State, saying it was yet another clear evidence that the opposition lacks the capacity to conduct credible elections and therefore cannot be trusted with power.

PDP, in a statement issued on Sunday by its National Publicity Secretary, Chief Olisa Metuh, said "the abysmally flawed Local Government elections in Edo,
despite repeated assurances by Governor Adams Oshiomhole is a clear referendum on an undemocratic and deceitful Nigerian opposition."

According to the statement, "For weeks, our local chapters in Edo as well as other Nigerians raised serious concerns over the shoddy preparations by the State Government and the State Independent Electoral Commission. The State Government denied it had any agenda other than free and fair elections.

"From what happened last Saturday, Nigerians are once again first hand witnesses to what free and credible elections mean in the continent of the Nigerian opposition.

"The Peoples Democratic Party is not surprised anyway. The opposition whether in the ACN or in the new metamorphosis of APC, like the leopard, cannot change its spots. This is a party that is used to imposition, a party without the least record of internal democracy, a party besotted to clique tyranny. How then can they conduct free and fair election?"

According to the PDP, " We have seen this aberrations in the conduct of Lagos Local Government elections and we have also seen it in the electoral heist that took place in Ogun State in the name of local elections. We are seeing it again in Edo, all under the opposition.

"Yet, this is the same opposition that wants Nigerians to entrust it with power so that they will reverse all the gains in credible elections recorded by the PDP.

" We wish to remind the opposition that the worst form of corruption is the one that denies the people the right to choice of leaders. The PDP under President Goodluck Jonathan has successfully proved that Nigeria can put the history of flawed elections behind it with the 2011 general elections adjudged locally and internationally as the most credible in our recent history. All the governorship elections held thereafter with Edo and Ondo States being the latest have been scored even better. Why should the opposition not take a cue from the PDP?"