Don't Cause Religious War In Nigeria, Dokubo Cautions MEND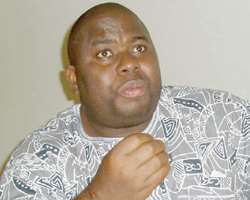 FORMER MEND LEADER, ALHAJI ASARI DOKUBO
SAN FRANCISCO, April 15, (THEWILL) – A former militant leader, Alhaji Asari Dokubo, has cautioned the Movement for the Emancipation of the Niger Delta (MEND) not to cause religious war in the country.

Dokubo, who was the leader of the Niger Delta People's Volunteer Force (NDPVF), before renouncing violence through the amnesty granted the Niger Delta militants by the late President Umaru Yar'Adua, said any form of religious war or crisis would be inimical to the collective existence of the country.
Reacting to the threat recently issued by MEND that it will soon start attacking Mosques and Islamic leaders, Dokubo, who spoke in an interview with State House correspondents in Abuja on Monday, said the consequences of such an action will spell doom for the country even as he insisted that there is no religious crisis in Nigeria.

"I want to say that there is no religious crisis in Nigeria and nobody should try to throw Nigeria into a religious crisis that will be far reaching, the consequences will be far reaching.
"For instance, in Yoruba land, how are you going to fight. In some families, the family is divided. The mother is a Christian, the father is a Muslim, the children are divided, there are Pastors, there are missioners of Islamic organisations or in Edo State, even in our area, in my family of my father's children of my sibling, I' m the only Muslim and my 18 children are also Muslims.
"So, how? Are we going to fight and kill each other? So, I don't think it's possible and I don't think anybody should be foolhardy in introducing that agenda into what the crisis we already have," he cautioned.
Dokubo also faulted the Federal Government for granting amnesty to militants in the oil rich region, saying the move was a "fraud", the spill over of which, according to him, is the current proposal to extend same olive branch to the Boko Haram.
According to him, "ab initio, the granting of clemency to militants of the Niger Delta was antithetical to the law of the land and a mistake by the Federal Government," adding government could only pardon those found guilty of an offence.
"I have always said that if you make the first mistake of granting amnesty to people. First amnesty is a fraud, it is not known to Nigerian law.
"The government can only put in two things, exercise prerogative of mercy after a person has been convicted or when a person is under trial, but you cannot see somebody and declare him a criminal and give him pardon. It is very wrong, it is a mistake we made it the first time and if you have made a mistake once, you continue to make it.
"If you give amnesty to the Salafi movement, I don't know them as Boko Haram, other people will come and maybe I will form a group and ask for amnesty and they will be given, so the vicious circle will continue.
"I cannot in one breath see that some other people are sitting at homeland receiving N65,000 and say that others should not, I cannot say that.
"It will be inconsistent with what I stand for. As far as I'm concerned, the amnesty proposed to whether it is Boko Haram or any organisation. As far as it has been given to one set of people, it should be given to all."
Alleging that the funds allocated for the amnesty programme were being diverted to private pockets, Dokubo condemned the recent killing of 12 policemen by militants in Bayelsa State.
"Many people were paid money through this amnesty and instead of paying their followers they pocketed much of the money for themselves and these followers were angry that the N65,000 stipend that was supposed to go to them did not get to them," he said.