Dangote Foundation Boosts UNICEF Fight Against Measles With $500,000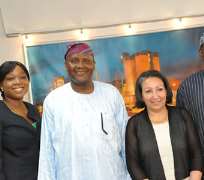 SAN FRANCISCO, April 15, (THEWILL) - The Dangote Foundation has contributed 500,000 US Dollars (N79.15 million) through the United Nations Children's Fund (UNICEF) to support the government's response to the recent measles outbreak that affected many States in Nigeria.
The donation was announced at the weekend in Lagos during a visit to the office of the President of Dangote Foundation, Aliko Dangote by a delegation of the UNICEF led by the Country Representative, Ms. Jean Gough.
Gough lauded Dangote Foundation saying, "Public/private sector interventions such as these in the health sector and other sectors such as water, early childhood development are the way forward for Nigeria to improve the well-being of Nigeria children."
The grant is a major contribution to government's fight against measles which is among the leading causes of child deaths in Nigeria, especially in areas where immunization coverage is low. As we are aware, the trend of measles follows a seasonal pattern with periods of high transmission (January to June with peaks in March) and low transmission (July to December).
The UNICEF Representative commended the Foundation and Aliko Dangote for the exemplary leadership being provided in Nigeria's effort to tackle vaccine preventable diseases such as Measles, Polio eradication and improve primary health care services.
During this year's Measles outbreak a total of 16,809 suspected measles cases have so far been reported across 614 Local Government Areas in Nigeria. In collaboration with World Health Organization, and other partners, UNICEF has provided support to government with resource mobilization as well as in the provision of technical support.
The grant from Dangote Foundation, Gough pointed out will support the measles campaign the Federal Government through its Ministry of Health and the National Primary Health Care Development Agency (NPHCDA).
The agency has concluded plans to conduct a measles campaign - targeting children aged 6-59 months -- in targeted Local Government Areas of States affected by the measles outbreak from 13-16, April 2013. This will be integrated with Polio Campaign to be conducted on the same dates.
The grant is specifically for the procurement of 1.7 million doses of measles vaccine and the gesture clearly demonstrates the key role the private sector can play working in partnership with government and other partners in mitigating public health problems in Nigeria.
Dangote said the issue of health and safe living was a core responsibility in the discharge of the corporate social responsibility of the Foundation pointing out that "we have a common synergy with UNICEF in the areas of health, education and nutrition and we hope that our efforts will encourage even more private sector engage with on-going efforts to improve the well-being of Nigerian."