PIB: Northern Leaders, IOCs Not Dictating To Us, Says House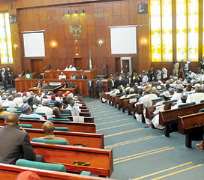 ABUJA, April 09, (THEWILL) – The House of Representatives Tuesday denied being teleguided by leaders from the northern part of the country and the International 0il Corporations (IOCs) on how to go about the controversial Petroleum Industry Bill (PIB).
Chairman of the House Adhoc Committee on PIB and Chief Whip of the House, Hon. Ishaya Bawa, gave the clarification while addressing newsmen on the commencement of zonal public hearing on the bill slated for April 22 and 23.
He explained that although several oil companies and individuals have sent memoranda and letters to the committee on aspects of the bill they want considered, no one was pressurising the committee to do its bidding.
"Nobody is mounting pressure on me or the committee. So far, I can authoritatively tell you that I am not under any pressure. Yes, we have received some letters and memoranda from oil companies," he said.
On why the committee decided to go for zonal hearing , Bawa explained that the reason was to give individuals and bodies at the grassroots the opportunity to make input into the bill.
He said the zonal hearing which is scheduled to hold in Port Harcourt, Enugu, Kaduna, Lagos, Ilorin and Gombe will be done simultaneously. "The public hearings will also provide ample opportunity for state governments , state legislatures, professional/interest groups to participate in the crafting of a Petroleum Industry Legislation that will hold something for everybody .
"These public hearings will be capped by a three-day grand finale to be held in Abuja on dates to be announced in due course. The Abuja hearing is intended to provide the final opportunity to the Committee to collate the views of other stakeholders who might have been unwittingly left out of the zonal hearings.
"At the conclusion of these hearings, the Committee will move into the next stage of examining the Bill in its entirety within the context of the preponderance of views collated at the public hearings and distilled from the memoranda to be submitted to the committee," he said.
It will be recalled that the bill has passed through second reading in the House. The Ad hoc committee was set up last November but was inaugurated three months after by the Speaker, Aminu Tambuwal.