Tinubu: Ekiti Has Lost A Gem, Olayinka's Death Devastating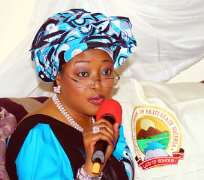 SAN FRANCISCO, April 06, (THEWILL) – The national leader of the Action Congress of Nigeria (ACN) and former Lagos State governor, Asiwaju Bola Tinubu, has described the death of the Deputy Governor of Ekiti State, Mrs. Funmilayo Olayinka, as a devastating loss not only to the family, the government and people of Ekiti State but also to the Action Congress of Nigeria (ACN) .
In a condolence message issued over the death of Olayinka which occurred Saturday in Lagos, Tinubu said:
"The sudden demise of Mrs. Funmilayo Olayinka is a big blow and comes at a time when she is most needed to play a vital role in the transformation of Ekiti.
"She rose like a meteor and brought compassion and grace to the exalted office of the Deputy Governor. She was a leading light amongst women of her generation and creed. Alongside the people of Ekiti, I share in the sudden and painful loss of this great daughter of Oduduwa and rising star, Mrs. Olayinka."
Also in a personal letter to Governor Kayode Fayemi and the people of Ekiti State, Tinubu prayed for solace for the family of the deceased and Ekiti sons and daughters through the trying period. He asked for courage for her husband and the family she left behind and encouraged Fayemi to be strong and remain undeterred in the onerous task to fully develop Ekiti State, which his deputy and himself committed to when they came to power.
Tinubu also lamented the state of health facilities in Nigeria, saying Olayinka's painful death "sadly reminds us of the parlous state of our health care system in Nigeria."
He added: "The lives of millions of our men and women are in jeopardy as they suffer under the disease of cancer without early detection and adequate treatment. A national cancer centre of international status needs to be established with proper funding and subsidized cost for testing and treatment.
"Nigerians must continue the struggle against cancer and hold out their candles for all that have died and those suffering from this terrible disease and by so doing, we will get the government doing something and keep hope alive."