Boeing Has 'Good' 787 Battery Plan Fix: Official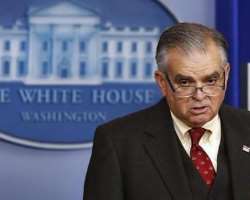 U.S. SECRETARY OF TRANSPORTATION RAY LAHOOD
Boeing Co (BA.N) has a "good plan" to fix the battery problem that has grounded its 787 Dreamliner jets, U.S. Transportation Secretary Ray LaHood said on Friday as the company prepared for a test flight to check the battery system revamp.
LaHood said he wants to ensure the Dreamliner is safe before allowing the planes back in the air, and no decision had been made on commercial flights. Airlines that operate the plane expect it could be flying again as early as April or May.
"They're doing the tests now, and we've agreed with the tests that they're doing. And when they complete the tests, they'll give us the information and we'll make a decision," LaHood said at the U.S. Export-Import Bank's annual conference in Washington.
The statements came as Boeing scheduled a test flight for later Friday to test a remodeled lithium-ion battery system designed to prevent the overheating or fire that occurred on two jets in January, prompting regulators to ban all 50 of the jets in service from flying.
The test flight will gather data for the Federal Aviation Administration to show the new battery system is safe and performs as designed. The flight is part of a series of tests to show whether measures Boeing has devised to fix the battery problems work as intended. A preparation flight on March 25 "went according to plan," Boeing said.
It's still unknown what caused the two batteries to overheat, and the National Transportation Safety Board is investigating. Boeing came up with measures it says make the battery safe. It put more insulation in the battery, encased the battery in a steel box, changed the circuitry of the battery charger and added a titanium venting tube to expel heat and fumes outside the plane.
Once Boeing completes its testing, the Federal Aviation Administration and other global regulators will review the test data and decide whether to certify the fix and return the plane to service.
Airlines have been barred from using the plane since it was grounded in January, and Boeing has been barred from delivering 787s, though it continues to build the plane. The delay has been costing the company an estimated $50 million a week.
REUTERS