Meet Temidayo Sanni, A Wife Olu Maintain Never Had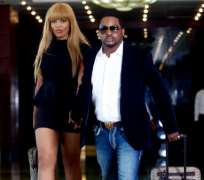 Olu Maintain, the popular Yahoozee crooner granted an interview to a widely read National daily some couple of weeks ago, stating reason(s) why he has not been able to tie the knot with his good looks and flamboyant lifestyle going for him.
Nollywoodgists.com has finally uncovered what many fans of Olumide Adegbulu a.k.a Olu Maintain are not privy to. Saying that Olu Maintain is a ladies' man is definitely stating the obvious; not only has he had his fair share of ladies, one conspicuously stood out from the pack; Temidayo Sanni,
A graduate of Human Kinetic and Health Education from the University of Lagos.
Nollywoodgists.com can authoritatively reveal that Temidayo and Olu cultivated a platonic relationship from 2007-2010 before becoming love birds. In fact, the springboard for their steamy love affair was at the 30th birthday/house warming party of the singing duo of P-Square which held at the Omole mansion of the twins; this event, we gathered signaled their first outing.
Sources revealed that since then, their relationship grew in leaps and bounds with speculation in the media about formalising the union. Alas! this never was to be as the two love smitten bugs decided to go their separate ways in January, 2012.
What made the relationship crumble like a badly arranged set of cards, according to what is being alleged by friends of Temidayo, a beautician of repute, who calls the shot at Daview Spa Centre in the new Ajah Shopping Mall, Ilaje, Ajah in Lagos, is because of Olu's deceitful tactics. Both Temidayo and Olu, ought to have been blissfully married, but for Olu's legendary love for chasing other ladies and his unrivalled mastery of lies which are the only flaws Olu has working against him.
According to one of Temidayo's friend,"Olu is a nice guy notwithstanding, we, her friends know that he spoilt Dayo silly with gifts and other things but he's never a serious type, he lies and is never a straight forward person. When my friend was with him, there were so many things she endured because she wanted to keep the relationship. I really thank God for my friend now because she met a young medical doctor who is reliable, serious and dedicated".
© 2013 Nollywoodgists.com
Click the link below to go to...
PICTURES OF TUFACE/ANNIE WEDDING
Omotola's Marriage Clocks 17, Says 'Capt M Ekeinde, You're A Good Man'
See The Man Who Broke Actress Tonto Dike's Heart
Silverbird Cinema Bans 'Boko Haram' Movie
You just can't go through the industry without being sexually harassed – Colette Orji
TWO POPULAR ACTRESSES DENY FIGHTING EACH OTHER IN PUBLIC
My husband complains too much
Annie and 2face's Love Story: How They Met at age 15, first words, how they both suffered and their big wedding!!!