JTF Impounds Large Cache Of Ammunition In Kano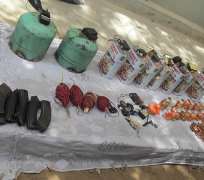 SAN FRANCISCO, March 28, (THEWILL) – Barely a week after a bomb blast consumed two suicide bombers in Kano, and only a day after the state Police Command intercepted a bomb-laden vehicle, suspected to have been primed for a suicide mission, officers and men of the military Joint Task Force (JTF), Thursday, impounded large consignment of arms and ammunition in three separate raids carried out across the city.
The weapons were discovered at three suspected bomb factories located in Sharada, Gaida Ajawa on the Eastern bye-pass and Mariri area of the city.
Disclosing this in a statement issued in Kano, Thursday, JTF spokesman, Captain Ikedichi Iweha, said the three buildings where the bomb factories were located had been demolished while eight suspected members of Boko Haram, including the sect's bomb making specialist, arrested in the course of the raids, are currently cooling their heels in the custody of the military.
He listed the weapons recovered during the exercise to include six AK 47 rifles, general purpose machine guns, SMG magazine, PPK pistol, two smoke guns and 189 rounds of AK 47 ammunition.
Other items, according to Iweha, were 43 rounds of 5.56 mm ammunitions, eight rounds of 9mm for PKK pistols, 15 hand held Improvised explosive devices (IEDs), containers of liquid chemical substance and 11 bags of nitrate fertilisers. He also explained that connecting wires and other materials for making IEDs were also impounded.
The JTF statement read in parts: "Sequel to the series of cordon and search operations, being carried out by JTF in Kano, the JTF wishes to inform the general public that in the early hours of this morning, March 28, 2013, a combined team of operatives stormed a residence at Geida Ajawa on Kano-Western Bye-pass being used as an armoury by terrorists and assorted dangerous weapons were uncovered.
"You may have observed that there has been a rise in recent times of the activities of terrorists in the state. This may not be unconnected with the influx of terrorists fleeing from Maiduguri, Damaturu, Potiskum as a result of pressure being mounted on them by JTF operatives in these areas."
Iweha said more worrisome is the fact that these terrorists secure accommodation so easily in Panshikara, Mariri, Farawa, Hotoro , Sharada and other parts of the city despite appeals to property owners to desist from renting out their houses to terrorists.
The JTF spokesman stated that the Force would not allow Kano to be used as a haven for terrorists and restated the resolve of the Task Force to pull down any property found to accommodate terrorists, in addition to arresting the owners of such properties, who would be treated as accomplices.
He assured members of the public that security has been beefed up, while the war against terrorism intensified, in order to usher in a violent-free Easter celebration.
"In the light of the Easter celebration, JTF patrols in town had been increased and new checkpoints introduced," he said as he appealed for the cooperation of Kano residents in the war against terrorism by obliging useful information and other vital clues to the Task Force.