Italy's Bersani Makes Last-Ditch Appeal For Government Deal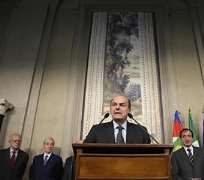 Italy's center-left made a last-ditch appeal to other parties on Thursday to clear the way for a new government before its leader, Pier Luigi Bersani, reports back to President Giorgio Napolitano later in the day.
Bersani, whose alliance fell short of the majority it would need to govern after last month's election, has made little headway in five days of talks with rival parties.
The stalemate in the euro zone's third-largest economy has been watched with growing alarm across Europe as the crisis in Cyprus increased concern about the renewal of market turmoil that would threaten the stability of the currency bloc.
On Thursday, the main indicator of market confidence, the spread between Italian 10-year bonds and their safer German counterparts widened to 350 basis points, some 30 points higher than the level seen before the February 24-25 election.
Both former Prime Minister Silvio Berlusconi's center-right bloc, the second largest force in parliament, and the anti-establishment 5-Star Movement, which holds the balance of power, have rebuffed Bersani's attempts to form a viable government.
However with only hours to go before Bersani must report to Napolitano on his exploratory efforts, officials from his Democratic Party refused to concede defeat.
"It often happens that the most delicate issues are resolved in the final phase," said Luigi Zanda, head of the PD's Senate group, urging other parties to help find a "positive solution".
Mindful of the risk of instability, Napolitano has insisted Bersani obtain firm guarantees of support from the other parties before he will give him a full mandate to form a government.
With prospects of a deal receding, options include naming an outsider to head a technocrat government like that of outgoing Prime Minister Mario Monti or a broad cross-party coalition.
PRESIDENT
Prospects that Monti may be asked to remain in office have faded since Foreign Minister Giulio Terzi quit this week in a shock move that showed the tensions in the caretaker government.
But Bersani's struggles have shown how hard it will be even for a new technocrat cabinet to win parliamentary support, increasing the chances of a snap new election.
For that to happen, however, a new head of state must be elected by parliament to succeed Napolitano, whose term ends in mid-May. Italian constitutional rules prevent a president from dissolving parliament during the final months of his mandate.
Even this task is politically fraught because Berlusconi wants to pick the new head of state, something Bersani rejects.
Underlining the challenges for the next government, a senior Bank of Italy official and the head of Italy's statistics agency ISTAT both said the government's latest economic forecasts may still be too optimistic, even after being sharply cut last week.
Last week the government said the economy, in its longest recession for 20 years, would contract 1.3 percent this year, compared with a previous forecast of a 0.2 percent shrinkage.
However, ISTAT head Enrico Giovannini told a parliamentary committee hearing on Thursday the result may be worse than that with no recovery until the end of the year or early 2014.
The lack of a government has increased concern that the slump will only get deeper.
"We need effective and credible economic policies to interrupt the recessionary spiral," Daniele Franco, a top central bank economist, told the committee.
REUTERS