Judge's Retirement Stalls Hearing in Alao-Akala's N25bn Graft Case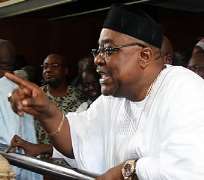 SAN FRANCISCO, March 27, (THEWILL) – The failure on the part of Justice Bolatito Badejoko of an Ibadan High Court to assign the case of graft preferred against former Oyo State governor, Otunba Adebayo Alao-Akala and two others by the Economic and Financial Crimes Commission (EFCC), stalled hearing in the case Wednesday.
It would be recalled that the former trial judge, Justice Akintunde Boade, had fixed further hearing in the case for Wednesday following his retirement from the bench early in the month.
But when the matter came up for hearing, Wednesday, there was no judge to take charge of the proceedings as the no judge had been assigned to preside over the matter.
The EFCC had slammed an 11-count charge of conspiracy, contracts scam and other criminal acts to the tune of N25billion on Alao-Akala, his Commissioner for Local Government and Chieftaincy Affairs, now a Senator, Hosea Agboola and an Ibadan-based contractor, Mr. Olufemi Babalola of Pentagon Engineering Services.
The former governor, who had arrived the court along with his supporters, was to leave the court premises few minutes after, when it became apparent that the case would not be heard.
EFCC counsel, Yinka Bolanle, said the case file of the trial was still with the chief judge, adding that a new trial judge was yet to be assigned the case .
He confirmed the claim by the counsel to the accused that an interlocutory motion had been filed at the Appeal Court by Alao-Akala and other accused, saying the development would not stop the trial.
"When we got here this morning, we went to Court 2 where the case was supposed to be heard but the presiding judge there said the case had not been assigned to him. You know, following the retirement of former trial judge, the case will be assigned to a new judge. Whenever this is done the trial will continue," he explained.
Counsel to Senator Agboola, Olatunde Lawal, also confirmed his client's appeal against the ruling of the former trial judge at the Court of Appeal and expressed the desire of the defence team to go ahead with the case any moment a new judge is assigned to the case.