A'Ibom: Akpabio Didn't Rig Senatorial Election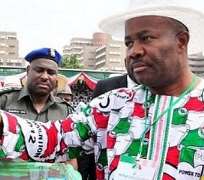 SAN FRANCISCO, March 25, (THEWILL) – The Akwa Ibom State Government has refuted the reports making the rounds that that Senator Alloysius Etok, representing Ikot Ekpene Senatorial District, was imposed on the people of the area by Governor Godswill Akpabio. The government insisted that the choice of the Senator was the outcome of due political process.
Making the clarification, Monday, in a statement by the Commissioner for Information and Communications, Mr. Aniekan Umanah, the government explained that the leadership of the Peoples Democratic Party, which includes Governor Godswill Akpabio, presented Senator Alloysius Etok as the best candidate for the 2007 Ikot Ekpene Senatorial District election.
Given that the Ini/Ikono, a minority part of the Senatorial District had never produced a Senator, Umanah said the party hierarchy, in the spirit of fairness and inclusiveness, supported the candidacy of Alloysius Etok.
The Commissioner said Akpabio was apparently misunderstood in a video post on some websites and in the social media, as he enjoined all well-meaning individuals and groups to ignore the attempt of those he described as mischief-makers to malign the person and office of Governor Akpabio.
He also advised the media not to allow themselves to be used in a new wave of attack against the Governor.
In the complete version of the video of the Good Governance Tour Town Hall Meeting, broadcast live on national television, where the Governor made reference to the Ikot Ekpene Senatorial District issue, Umanah said the governor went further to explain what he meant and how the choice of Alloysius Etok was arrived at, stating that as a true Nigerian who was elected on popular mandate, Akpabio has never, and would never engage in the rigging of election at any level.
He stressed that Akpabio is a true democrat who will always support and promote efforts geared towards deepening Nigeria's fledging democracy.
"When I said I made Alloy to become Senator in 2007, I need to explain, so that you don't think that I wrote his name and he became a senator, no. During the primaries of the PDP, we zoned the senate to his federal constituency, and from his federal constituency, he emerged first in the primaries.
"That was what happened in the PDP. So we said since he was the first among the list of people who came from his federal constituency for the primaries then he must be the one to become the senator. And after that we presented him before the public in the general election and he won. And in 2011, with my support, he had the highest vote in the entire country ," Akpabio was quoted in the video.