Central African Republic Rebel Chief To Name Power-Sharing Government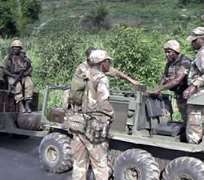 The leader of rebels in Central African Republic has pledged to name a power-sharing government in a bid to defuse international criticism of Sunday's coup that killed 13 South African soldiers and plunged the mineral-rich nation into chaos.
The Seleka rebel coalition's seizure of power was swiftly condemned by the United Nations and the African Union. But in a sign of pragmatism, the United States, France and regional powerbroker Chad called on the insurgents to respect the terms of a recent peace deal.
The Seleka fighters seized power on Sunday after a lightning offensive in which they fought their way from the far north to the presidential palace in just four days after a January power-sharing agreement signed in the Gabonese capital Libreville collapsed.
Neighboring Cameroon confirmed on Monday that ousted President Francois Bozize had arrived there.
The removal of Bozize, who himself seized power in a 2003 coup backed by Chad, was just the latest in a series of rebellions since the poor, landlocked country won independence from France in 1960.
French military forces reported looting was continuing for a second day in parts of the riverside capital Bangui and water and electricity had not yet been switched back on.
Other parts of the city appeared calm, with regional forces cooperating with Seleka fighters to try to restore order after chaos gripped the city of 600,000 inhabitants during the rebel takeover. Small contingents of troops from Chad, Gabon and the two Congos are there.
"We will respect the Libreville accord: a political transition of 2 to 3 years before elections," Seleka spokesman Eric Massi said by telephone, referring to the agreement reached after the rebels besieged the capital in December.
The deal had created a government drawn from Bozize loyalists, rebel leaders and the civilian opposition.
A Seleka leader, Michel Djotodia, has been named president to replace the ousted Bozize. Civilian opposition member Nicolas Tiangaye would retain the prime minister's post he was given in the January power sharing deal, Massi said.
"The current prime minister remains in place and the cabinet will be slightly reshuffled," Massi added.
Seleka, a loose coalition of five rebel groups whose name means "alliance" in the Songo language, accused Bozize of breaking the January agreement by failing to integrate their fighters into the army.
With France's military contingent in Bangui refusing to intervene, two heavily armed columns of insurgents in pick up trucks swept into the capital on Sunday, brushing aside a South African force of 400 troops which attempted to defend Bangui.
South Africa's President Jacob Zuma said at least 13 soldiers were killed and 27 others wounded in the fighting, the worst military setback for Pretoria since the end of apartheid and an embarrassing setback to its efforts to project its power in the resource-rich heart of Africa.
"It is a sad moment for our country," Zuma said, adding that another soldier was still missing. "The actions of these bandits will not deter us from our responsibility of working for peace and stability in Africa."
Despite rich deposits of gold, diamonds and uranium, Central African Republic remains one of the world's least developed and most unstable nations. In recent years, Bozize's government had hosted U.S. Special Forces helping regional armies hunt down the Lord's Resistance Army rebels, led by a Ugandan warlord, who have killed thousands of civilians during decades of conflict.
FRENCH NATIONALS SAFE
Zuma said South Africa had not decided yet whether or not to withdraw its forces, who he said had inflicted heavy casualties on the rebels during a 9-hour attack on their base.
Paris, which already had 250 soldiers in Central African Republic, has sent another 300 troops to ensure the security of its citizens and diplomatic missions.
Foreign Minister Laurent Fabius said there was no need to evacuate the 1,200 French nationals, most of whom are in the capital.
"Things are under control from our point of view regarding French nationals," Fabius said on Europe 1 radio.
French President Francois Hollande spoke to U.N. Secretary General Ban Ki-moon and Chadian President Idriss Deby to suggest that any solution to the crisis should be based on the January Libreville agreement, Fabius added.
"For now, there is no legitimate authority there," he said, adding that it was not up to France to intervene in the internal affairs of the country.
The U.S. State Department also called on the Seleka to ensure the implementation of the Libreville agreement and provide full support to Tiangaye's government. Regional military power Chad said the same in a statement on Sunday.
Ousted leader Bozize rose to prominence in the military during the 1966-1979 rule of dictator Jean-Bedel Bokassa, a self-styled emperor. Bozize seized power in a 2003 coup backed by Chad but his failure to make good on power sharing promises after winning disputed 2011 polls led to Seleka's offensive.
REUTERS