IMF Chief's Apartment Searched In French Compensation Case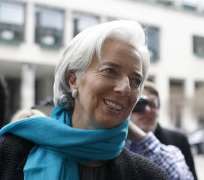 French authorities searched the Paris apartment of IMF chief Christine Lagarde on Wednesday in an investigation into her award of a 2008 arbitration payment to a businessman supporter of former president Nicolas Sarkozy, her lawyer said.
Lagarde, who was Sarkozy's finance minister at the time, has denied wrongdoing in ending a court battle with Bernard Tapie and to instead opt for arbitration. It resulted in a 285 million euro ($367 million) sum being granted to the billionaire.
Although Lagarde has never been accused of profiting personally from the controversial payment, the long-running Tapie affair is a distraction as the ex-lawyer, a major player on the international stage, seeks to restore stability to the global financial system.
Her predecessor at the IMF, Dominique Strauss-Kahn, resigned over sexual assault charges that were later dropped.
Magistrates from a special tribunal that judges alleged abuses by government ministers suspect her of complicity in misusing public funds after she overruled objections from advisers to proceed with arbitration.
The investigation has been open since 2011 and Lagarde has never been summoned for questioning.
"This search will help uncover the truth, which will contribute to exonerating my client from any criminal wrongdoing," Lagarde's lawyer, Yves Repiquet, told Reuters.
Lagarde was in Frankfurt and not in her Paris flat at the time of the search, which Repiquet said was carried out by investigating magistrates.
An IMF spokesman declined comment but said that before Lagarde was named managing director, the global lender's board discussed the matter and determined she would be able to lead.
UNCOMFORTABLE QUESTIONS
The timing of the search of the apartment was sensitive, coming a day after France's budget minister resigned after being targeted in a tax fraud inquiry.
Socialist President Francois Hollande came to power last May saying he would create an "exemplary" state free from the unfair advantages accorded the elite he said were rife under Sarkozy.
Sarkozy's ex-labor and foreign ministers resigned in 2010 and 2011, respectively, after allegations of influence peddling.
The Tapie affair has done little to quash a widely held perception in France that relations between politicians and the business elite are cozy.
Tapie, a colorful and often controversial character in the French business and sports world, sued the state for compensation after selling his stake in sports company Adidas to then state-owned bank Credit Lyonnais in 1993.
He claimed the bank had defrauded him after it later resold his stake for a much higher sum. Credit Lyonnais, now part of Credit Agricole, has denied any wrongdoing.
Lagarde was a star in Sarkozy's cabinet and well-respected by peers, pushing through many of the high-profile initiatives in France's presidency of the G20 group of nations.
REUTERS