Jonathan: FG To Name New Head Of Service Thursday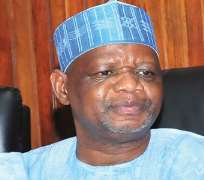 SAN FRANCISCO, March 20, (THEWILL) - The Federal Government is to name a new Head of Service (HoS) of the Federation on Thursday .
President Goodluck Jonathan disclosed this Wednesday .
The new HoS is to succeed the out-going number one civil servant, Alhaji Isa Sali Bello who was honoured at a valedictory session shortly before the commencement of the weekly Federal Executive Council (FEC) meeting on Wednesday presided over by President Jonathan.
Bello had served as the HoS for more than one and half a year.
President Jonathan also swore in three new permanent secretaries at the occasion. They are Dr. Habiba Lawal, Engr. John Obinna Chukwu and Mrs. Winifred Ekanem Oyo-ita.
Speaking at the valedictory session for Bello, President Jonathan said: "Thank you Isa for serving this country and especially for heading the civil service within this period that Nigerians asked us to oversee the affairs of this country.
" My self, the Vice President and indeed the entire members of the Federal Executive Council, that have the responsibility now to oversee the affairs of the country within this period you served as a head of service, quite appreciate you.
"It is sad that you are leaving, but like every good thing, someday, somehow we will all leave. For you, I have to congratulate you because the joy of anybody who serves in the civil service and indeed any other organisation, be it private or public, when you have the privilege of attaining the highest office, the head of the civil service of the federation is the highest office in the civil service.
"So many brilliant permanent secretaries couldn't make it, not because they are not good enough but for one thing or the other, they were a bit unlucky to get there, but you were a bit unlucky to get there, but you were able to get there, we have to congratulate you.
"You are still very young and agile, but based on the laws of the land, you are leaving. You have done well congratulations. Your replacement will be announced tomorrow."
Commenting on the newly-sworn in permanent secretaries, Jonathan said judging from their pedigrees, they are distinguished men with outstanding qualifications to hold their forte and facilitate the administration's transformation agenda, particularly in the civil service.
He urged them to adopt global best practice in the discharge of their onerous tasks of overhauling the system,saying they should work as a team to deliver on their goals.
According to Jonathan, "Listening to a brief citation, it shows clearly that the man and women who belong to the class of eggheads, have impressive academic records and career. Let me charge to use these innate qualities you have and the ones you have acquired through your employment history to see how you can transform the way we do things in the civil service.
"For you to change the world, civil service is the best, it must perform. Otherwise things may not move the way it is supposed to move and it takes few people to change the society. We want you to be part of that team, a part of that agents of transformation that will transform this country, transform the civil service and transform the country. We believe in you, Nigerians hope and believe that you will not disappoint us. Once again congratulations."
Information Minister and his Housing and Urban Development counterpart, Mr Labaran Maku and Ms. Ama Pepple respectively, who spoke on behalf of other ministers, also praised the out-going HoS. Describing Bello as a distinguished civil servant, Maku said "one thing that we noticed in him since he joined us in council as head of service, is that he is a very sober and reflective head of service and very calm. Even when things are stormy, he retains his calm and we really appreciate the cooperation he extended to us."
Pepple,on her part, said: "I am sad to see Mr Sali go. I worked with him a bit. I interacted with him a lot even while he was head of service. He is always calm in his quiet demeanor, but he is a very effective and efficient officer. I was not surprised that he was appointed head of service by your excellency."