Zuma son 'happy to share father'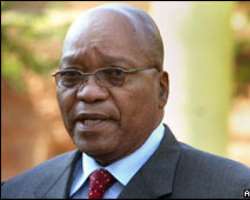 Jacob Zuma married his third wife in early January

The children of South Africa's President Jacob Zuma are "content" to share their father with "20 or more" siblings, his son has said.
"We as a family are content with the polygamous nature of our household," said Duduzani Zuma, 27.
The president, who has three wives, has been criticised after news that he has a four-month-old "love-child".
His son, normally publicity-shy, accused the media of having disregard for his family's feelings.
He said his family "cannot remain silent any longer".
"It is my father's right within the context of his culture to have as many children as he wishes."
The South African president, who has 19 children according to his office, is from the Zulu ethnic group which practises polygamy.
Duduzani Zuma, a twin and the son of Kate Mantsho who committed suicide in 2000, accused the media of "disregard and lack of concern of the hurt caused" to his family by reports about his father.
"It has been most inhumane to be treated as mere objects of curiosity, sensational reports and headlines," he said in a statement.
He is not married.
Mr Zuma has taken two days off work to rest after a "hectic schedule", his office says.
Following reports in the local media, Mr Zuma confirmed that he has fathered a child with the daughter of local world cup boss and friend Irvin Khoza.
The report led to a flood of controversy - one MP suggesting that he should seek treatment for "sex addiction".
Opposition parties say his behaviour contradicts the government's stance on HIV prevention - preaching regular condom use and faithfulness to one partner.
But Mr Zuma has denied this and says he has fulfilled his responsibilities.
South Africa has the highest number of HIV infections in the world - more than five million people.
Mr Zuma has been married five times in all, most recently in January, and is also engaged to another woman.