LATE JUSTICE E.T. NDOMA-EGBA: ADIEU DADDY!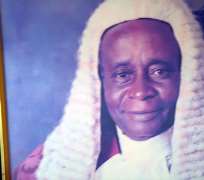 Talking about my father, E.T, Me lord, the bones shall rise again, in the past is surreal, almost unbelievable. Not that his mortality was in doubt, he was as mortal and vulnerable as the next human, complete with his frailties and failings. We had, maybe in an overdose of optimism, come to see him as a permanent fixture in our lives. Even when the ever busy lawyer and judge went into formal retirement from the Court of Appeal bench in 1993, even when his hands became unsteady and forced him into retirement from his other passion, hunting, even when church attendance became occasional, we ,his children, persisted in our optimism that he was always going to be around. Not even our own transformation from children to parents and grandparents alerted us to the reality of that day that must come as it eventually did in the evening of 6th October 2012.
For a long time I misunderstood my father as he did not indulge me at all. I got to understand him when I became a parent myself. I then knew that he wanted me to be tough, independent and determined. He wanted me to hunger for success and exert myself in every situation to the very limits of my endowments, to take responsibility for myself and satisfy myself that I did my very best in every situation.
I idolized my father though I did not admit it to him. Because I took after him in many ways the 'fights' were inevitable. God blessed him with many gifts. He was a polyglot. Languages came to him naturally and he spoke many. He was a hard worker and recognized his opportunities. He had an abundant gift of diligence. In these parts he was a pioneer whether in teaching, the civil service or the legal profession which made him a legend. He had an incredible capacity for lifelong friendships that cut across age religion, tribe or race. He was focused and gave his all to whatever he set out to do and did not do many things at the same time. As a lawyer he practiced only law and to the highest professional standards. As a judge he was incorruptible, courageous, just and learned. With firearms he was dexterous, the greatest marksman I ever beheld. As a fatherer he set us on the path of truth, honesty, dignity, integrity and hard work. We were allowed to make our choices but within strict moral bounds. Life to him did not admit of shortcuts. He was a father and a friend with whom you could discuss anything under the sun and crack any joke. He loved jokes and a hearty laugh and forever told stories. Even when we called him Wayo, his answer was that Wayo could only beget Wayo.
He gave me everything a father could give, the values that guaranteed a clear conscience always, the moral compass to navigate a morally ambivalent world, and a recognizable and respected name that gave me a head start in life. My friends became his friends and he was at ease with them as he was with his friends. Rectitude was his creed and public acclaim or acceptance was of no importance to him. Being at peace with one's conscience was all that mattered.
He lived life to the fullest and on his terms. He was at once western and traditional as he easily fit into the sedateness of presidential palaces as he did the irreverent village settings where he found his element. He never left his roots and his roots never left him.
Giving, and sharing, were religion to him. His time, his knowledge and his all, especially the game from his huntings which were trophies to which all were entitled. Every meal was to be shared so it was a rarity seeing him eat alone. Life to him was about sharing and he indeed shared.
His presence, large heart, energy, legendary status belied his lithe frame. He used his enormous endowments to reconcile many communities and persons who remember him fondly till date. He firmly believed everyone should live in peace with his or her neighbour.
As perhaps the greatest beneficiary of his legacy and goodwill I testify to his true greatness for only the truly great remain truly humble. Father, friend, E.T, Melord, the Bones, yours was indeed a life. You were a legend beyond your times. Many wonder why you did not make it to the Supreme Court. You could, but you were not prepared to lobby.
As you take your place in the bosom of the Almighty whom you faithfully served in truth, in words and in deed, while on this mortal plane, continually plead for us, intercede for us with the Almighty and reconcile us to Him. Rest in Peace in Paradise for you have earned it. As you rest in Heaven, you live forever in our hearts and history that validates and vindicates your life.
**Being a special tribute by Senate Leader, Victor Ndoma-Egba (SAN) to his 84-year old late father, Justice Emmanuel Takon Ndoma-Egba, who was buried on February 23, 2013.
Written By Victor Ndoma-Egba

Disclaimer:

"The views/contents expressed in this article are the sole responsibility of

thewillnigeria.com

and do not necessarily reflect those of The Nigerian Voice. The Nigerian Voice will not be responsible or liable for any inaccurate or incorrect statements contained in this article."
Articles by thewillnigeria.com