WATER SUFFICIENCY AS NATIONAL INTEREST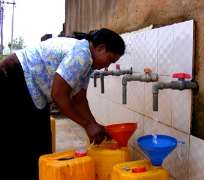 It is usually unusual for top government officials in Nigeria to honestly inform Nigerians of the correct state of affairs especially in their areas of jurisdiction.
But since 2011 when the current administration came on board and president Goodluck Jonathan signed the Iconic freedom of information Act of 2011, some high profile government officials have shown remarkable evidence of their profound willingness to communicate objectively and give the generality of Nigerians the exact position of things that concerns the public good.
In this light, the permanent secretary in the ministry of water resources Ambassador Godknows Igali last year came out openly to alert Nigerians that we are lagging behind in the Millennium Development Goals of 2015 with specific reference to the attainment of water sufficiency.
He however assured that the water resources ministry will do all within their power to ensure that Nigeria achieves water sufficiency in record time. Over the years especially since 1999, successive governments including the current administration have shown abundantly to Nigerians that they spend more cash in empty talkshops than implementing policies and measures to redress and address the fundamental needs of the Nigerian citizenry including building and maintenance of public infrastructure.
Nigerians have become increasingly cynical and are unwilling to trust the integrity of government officials to deliver those political rhetorics and empty promises such as the now canvassed view at the recent Presidnetial water summit to make Nigeria water sufficient in no distant time.
The apprehension raised by the Water Resources Permanent Secretary Ambassador Igali regarding the attainment or otherwise by 2015 of the water target as part of the larger goals of the Millennium Development Goals was confirmed by the minister Mrs. Sara Reng Ochekpe who also expressed determination to do all it can to achieve rapid result in the direction of transforming Nigeria into a water sufficiency nation.
She said part of the effort of the Nigerian government in the transformation agenda to improve the social well being of the Nigerian people in various sectors especially those connected with full realization of the MDG goals, the water resources ministry had on February 18th/19th 2013, gathered international water experts whereby consultative dialogues were held on finding innovative approach to funding water provision and sanitation to the Nigerian public.
Her words: "Well, because other countries have met the MDGs target especially on drinking water, we will say that in Nigeria we are not on track as such. But we are making every effort to not only be on tract but to also surpass the MDGs targets. Like I told you earlier our coverage now is 66 percent while the MDGs target is 70 percent so we are just short of about 9 percent to reach the MDGs target. But we want to surpass the MDGs target and so we are working hard to see that we meet the MDGs target and also surpass it"
Asked by a Nigerian media to expound further a claim recently made by vice president, Mr. Namadi Sambo that soon no Nigerian kid would have to trek great distance in search of clean drinking water, the water Resources Minister expressed optimism that such a lofty idea would be attained in the long run as if to reaffirm a philosophical statement by a great thinker that "an idea whose time has come is much stronger than the strongest army in the world".
The Water Resources minister was quoted to have stated thus; "When we put all these efforts together am sure we will surely stop it. What the vice president said is the desire of government and it is that desire that is propelling us to do what we are doing and it's a process which I will say is progressing and we will certainly get to the point where Nigerian child will not have to trek long distances to go and fetch water".
The minister further stated; "With the local government, the state and the federal government, the international development partners, the private sectors, all coming together to work and ensuring adequate provision of water supply to the Nigerian populace, definitely we will reach that point were the Nigerian child will not have to walk long kilometers to get water, they will just find water within their neighborhood and take it when they need to use it. That will also give them enough time and space to attend to their school needs and other activities that will help bring about development in the society."
But Water Aid, a global non-governmental body thinks otherwise when it found out that Nigeria is certainly not on the path of attaining water sufficiency by 2015.
Water Aid last year released a new report that predicted that at the current rate the Millennium Development Goal on sanitation will not be met in Nigeria and several other Sub-Saharan Africa countries until 2175, 160 years late.
According to the report, the proportion of people with access to sanitation is on the decline in Nigeria, the report shows that if Nigeria government fails to meet the Millennium Development Goal (MDG) to halve the proportion of the population without sanitation by 2015 the lives of 100,000 children under the age of five will be at risk annually.
Titled: 'Saving lives', the report noted that "there are more people in the world today without sanitation than there were in 1990", and "the poor quality of sanitation and lack of access to safe drinking water causes 1.4 million child deaths every year, due to diarrhea, and that these deaths are preventable".
Presenting the report, the UK Chief Executive of Water Aid, Barbara Frost,said: "Governments could save the lives of 400,000 children by meeting their international commitment to invest in sanitation and to achieve this MDG. If governments committed to universal access to safe water to drink and improved sanitation they could save 2.5 million lives every year. It is unacceptable that 37 per cent of the world's population live without a toilet. The need for action is overwhelming."
Only last year, the United Nations found out that over 30 million people in Nigeria defecate openly.
Speaking last year with a team of the editorial board of Human Rights Writers' Association of Nigeria, the minister of Water Resources who expressed regret over the high rate of persons that engage in open defecation, however, said the ministry is proactively determined to implement bold policies that will position Nigeria on the path of rapid water sufficiency.
She stated thus; "At the level of the ministry, we have from our records now, coverage of about 58% adequate access to portable drinking water and we have already drawn up a road map that will give us a guide to improve on the access and we are working at an improvement to about 75% access for the next two years. In the area of Sanitation we are aware that we have a challenge with that area but we are also working hard to see that we improve on our Sanitation coverage."
As stated above, water and food sufficiency is a key national security matter for Nigeria which was why even the drafters of the Nigerian Constitution enshrined it under the fundamental objective and principle of state policy.

Section 16(1) (a) of the constitution provides that; "the State SHALL within the context of the ideal and objectives harness the resources of the nation and promote national prosperity and an efficient, a dynamic and self-reliant economy".
International water and sanitation experts under the aegis of the millennium project had recently came out with a considered findings on why water sufficiency eludes most contemporary African countries and tacitly endorsed Nigeria's dogged determination at least in paper, to attain water sufficiency in the shortest possible time.
According to them; "Africa's rapid urbanization has outpaced its capacity to provide sufficient water; the population without such access has nearly doubled since 1990 to over 55 million today".
Underscoring the severity of the water shortage in Nigeria, recently when the populace woke up and discovered that about 25 corpses were floating on Ezu River, Anambra state, their only source of drinking water, good spirited individuals including the Anambra state government where the unfortunate incident took place, rushed to the aid of the rural populace with dozens of sachet water (pure water) because of the fact that Ezu River is now polluted and if the people continue to rely on it for their water supply then sooner rather than later, a health epidemic of damaging proportion may arise.
Specifically, like most rural communities in the entire South East that rely on stagnant streams/Rivers as sources of their drinking water, the now polluted Ezu River in Anambra state is the main source of water supply for Ebenebe, as well as other communities of Amansea, Ugbenu, Ugbene and Oba Osemili in the same local government.
Traditional king of Ebenebe, Igwe Chris Nnaegbuna, who spoke after receiving 3000 bags of sachet water for his community from officials of senator Andy Uba's office, said many people in his domain have suddenly taken ill at the same time and he suspected that it could be as a result of their continued use of the contaminated Ezu River as their water source.
From the experiences of the people affected around the Ezu River in Anambra state, it is clear that the provision of clean drinking water to a majority of the Nigerian population remains one of the most strategic national interest just as it is imperative for government and other stakeholders to check the unprecedented upsurge in deadly water borne disease in Nigeria.
The United Nations through its health related and development focused agencies have published scholarly reports to show the grave danger that lack of clean drinking water poses to the health of Nigerians.
UNESCO had recently reported thus; "Water related diseases are among the most common causes of illness and death, affecting mainly the poor in developing countries. They kill more than 5 million people every year, more than ten times the number killed in wars. The diseases can be divided into four categories; water- borne; water-based; water-related; and water scarce diseases".
Mr. Francis Nwachukwu who spoke with me from Arondizuogu in Imo State, one of the vast rural communities that lack clean drinking water, said the presidential summit on water sufficiency which has been convoked by President Jonathan in the nation's capital should endeavour to task state and local government administrations to key into the water transformation agenda of the Federal government so that the perennial water scarcity which poses danger to the lives of millions of rural and urban poor across Nigeria are rapidly tackled. Civil society groups, community and faith based organizations need to build the capacity of their staff to track developement in the water sector across Nigeria to ensure that the fundamental human right to clean drinking water and good sanitation are strictly adhered to.
Those who should know said the presidential water summit could be the current government's drive to bring about development which is a new generation human right.
The right to development places the human person at the center of the development process and recognizes that the human being should be the main participant and beneficiary of development.
The 1986 United Nations Declaration of the Right to Development states among others that' "every human person and all peoples are entitled to participate in, contribute to, and enjoy economic, social, cultural and political development in which all human rights and fundamental freedoms can be fully realized".
Government of Nigeria is obliged under the United Nations Universal Declaration of Human Rights to make clean water and sanitation abundantly available to Nigerians. Prominent persons that graced the occasion of the Presidential water summit such as President Jonathan, former President Olusegun Obasanjo, Senate President Daid Mark and other international figures clearly highlighted the strategic importance of water and canvassed effective Public-Private partnership in the area of working out innovative funding mechanisms to achieve water sufficiency. President Jonathan stated thus; "Water is very important for us to survive. We need water fr agriculture, electricity. Of course that is one of the reasons we invited all of you today to be here with us to chart a new course to enable us provide water for all Nigerians". From the mouth of President Jonathan we have heard that Nigeria needs N350 Billion annually to be able to achieve this lofty and noble idea of water sufficiency for Nigerians.
The executive and legislative arms of government must appropriate and transparently spend huge financial resources at both federal and State levels to ensure and guarantee adequate clean water to the citizenry because without clean drinking water it is unrealistic to expect that the citizenry would enjoy unimpeded human right to life and good health.
Written By Emmanuel Onwubiko

Disclaimer:

"The views/contents expressed in this article are the sole responsibility of

thewillnigeria.com

and do not necessarily reflect those of The Nigerian Voice. The Nigerian Voice will not be responsible or liable for any inaccurate or incorrect statements contained in this article."
Articles by thewillnigeria.com