Bribe-For-Budget Deal: 'Wabara, Others Must Face Trial'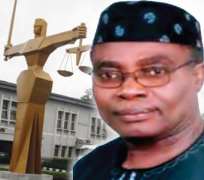 SAN FRANCISCO, February 22, (THEWILL) - Former Senate President, Adolphus Wabara, and four others were, Friday, asked by the Supreme Court to return to an Abuja High Court to face trial over alleged N55 million bribe-for-budget deal.
It would be recalled that the Independent Corrupt Practices and Other Related Offences Commission (ICPC) had arraigned Wabara and four others on April 11, 2005 before Justice Hussein Mukhtar of an Abuja High Court for allegedly obtaining money to facilitate easy passage of the budget of the Federal Ministry of Education in 2005.
They were accused of committing offences contrary to sections 9(1) (a); 17(a); 23(2); 26(1) and punishable under Section 8(1); 9(1) (b); 17(c); 23(3) of the ICPC Act 2000.
Other accused persons are a former Minister of Education, Prof. Fabian Osuji, Senator Ibrahim AbdulAzeez, Senator Azuta Mbata and Garba Matazu.
Two other suspects ,Senators Emmanuel Okpede and Badamosi Maccido, have died and their names struck out of the charge sheet.
When the accused urged the trial court to quash the charges against them, Justice Muktar, on November 10, 2005, dismissed their request.
Three of the suspects ,Wabara, AbdulAzeez and Osuji, later proceeded to the Court of Appeal in Abuja challenging the judgment of the High Court.
On June 2, 2010, the Appeal Court set the three accused persons free and quashed the 15-count charge brought against them by ICPC.
Not satisfied by the decision, the anti graft agency approached the Supreme Court to challenge the decision.
In a unanimous judgement of the court delivered by Justice Musa Dattijo Muhammad, the Supreme Court set aside the judgement of the Court of Appeal which quashed the charge against the accused persons.
The court therefore restored the decision of the High Court and ordered the remittance of the case file to the High Court for expeditious trial.