2013 Budget: Best Deal Awaits Nigerians, Says Presidency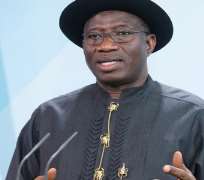 SAN FRANCISCO, February 20, (THEWILL) – Like the proverbial dog that eats the fattest bone, Nigerians were assured, Wednesday, that the delay by President Goodluck Jonathan in assenting to the 2013 budget was to ensure that they get the best deal out of the document.
Special Adviser to the President on Media and Publicity, Dr. Reuben Abati, who stated this while speaking with State House correspondents after the weekly Federal Executive Council (FEC) meeting at the Presidential Villa in Abuja, said the delay in signing the budget "is all about making sure the best is done in the interest of Nigerians."
Though the 2013 budget was expected to be signed, Wednesday, the signing did not hold, with the Presidency saying Nigerians will be intimated with prevailing development as the situation unfolds.
Observing that he was not at the Tuesday nocturnal meeting between the President, National Assembly leaders and the top notch of the ruling Peoples Democratic Party (PDP), the outcome of which journalists did not know, Abati said the position of the Federal Government on the issue of the budget is still predicated on the submission of the Minister of Finance and Coordinating Minister of Finance, Dr Ngozi Okonjo-Iweala.
This position, he reiterated, is that there are grey areas in the document that needed to be put in perspective and resolved once and for all. Although he did not mention what these 'areas' are about, Abati assured that once this critical stage is crossed by the two arms of government, the president will sign the budget into law .
He noted that where there are two arms of government, there will be need for clarification and further clarification of issues that bind them together such as the budget, adding that this need for proper understanding of any matter at hand is not tantamount to conflict or territorial breaches as are being highlighted by the media.
"On the issue of the budget, the position remains the same as articulated previously by the Minister of Finance that there are grey areas in the document that are being discussed by the Executive and the Legislature and that once these are clarified, the budget will go to the next stage. So, there is no problem, although some of the reports in the media are trying to insinuate whether there is a conflict or problem.
"Where there are two arms of government involved in something as strategic as that, there will be need for clarifications and consultations to ensure that the overriding objective. The overriding objective should be in the best interest of Nigerians, to ensure that what comes out is a budget that serves our interest, this is not about conflict or territorial friction, it is all about making sure the best is done in the interest of Nigerians," he explained.