Shettima: No Rift With My Deputy, Modu Sheriff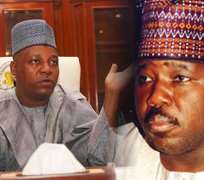 SAN FRANCISCO, February 20, (THEWILL) - Borno State Governor, Alhaji Kashim Shettima, Wednesday, declared that there was no rift between him; his deputy, Alhaji Zannah Umar Mustapha; as well as with his predecessor, Senator Ali Modu Sheriff; thus putting paid to speculations that all is not well between them.
The governor, who emphatically stated that there was no rift between him and his deputy, said if the constitution allows him a third term, he will be running with his deputy.
He also disclosed that he has a perfect relationship with his predecessor, Modu Sheriff, and at no time did he have any rift with him. He added that no matter some people may be saying about the former governor, to him, he remains an angel that must be adored and respected.
Speaking when political leaders from Southern Borno paid him a visit at the Government House, Maiduguri, the state capital, Shettima dismissed all the speculations with a wave of the hand, saying he enjoyed a perfect relationship with his deputy whose loyalty to him, the party and the good of the state has never been in doubt.
"The alleged rift between me, the deputy governor and Ali Sheriff is false; I laughed it off when I read it on the pages of newspapers because there is nothing like that. I made it emphatically clear that there is no rift between us.
"My philosophy is that we do not need to even fight our political opponent not to talk of ourselves in the same political family," the governor said, stressing that all they need to do is to team up to develop the state and the country at large.
Maintaining that he will ever owe his predecessor, Modu Sheriff, a lot for standing by him to become the governor of the state, Shettima said he will remain indebted to him without being in servitude and continue to work with him for the good of all the people of the state.
The leader of the delegation, Barrister Isa Modu Chul, in his remark, said that their visit is to re-affirm their support to the governor and his deputy, maintaining that all the claims by the so-called Southern Borno Youths are false. He said the move is just a political gimmick as he reassured their support for the state deputy governor as well.
He said they were surprised to read on the pages of the newspapers that Southern Borno Youth Forum is calling for the removal of the deputy governor, saying they didn't even know that the Forum is a faceless group.