Again, Maina Loses Bid to Stop Arrest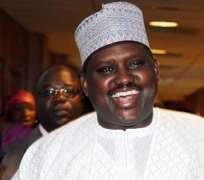 SAN FRANCISCO, February 18, (THEWILL) - For the second time in less than a week, the embattled chairman of the Presidential Task Force Team on Pension, Abdulrasheed Maina, has lost the bid to stop his arrest by the police who had declared him wanted for his failure to honour the summon by the Senate.
This is as Justice Adamu Bello of a Federal High Court Abuja, Monday, once again, threw out the application seeking to stop his arrest.
Maina's lawyer, Mahmoud Magaji (SAN), at the resumption of the hearing of the application, Monday, had made an oral case asking the court to direct parties in the suit to maintain the status quo pending the hearing and determination of the suit before it.
Though he argued that when parties had submitted themselves for adjudication, it was expected that they would not do anything that would vitiate the proceedings before the court, counsel to the respondents opposed the application, saying the court had become functus officio having thrown out the same application which the applicant brought earlier by way of ex- parte.
Maintaining that the applicant had refused to place before the court any material alleging that any of the respondents was working or planning to do anything to vitiate the proceedings of the court, the counsel to the respondents also argued that such application brought by the applicant should be made formally and not orally.
Justice Adamu Bello, in his ruling, held that the he could not sit over an appeal against his own ruling and that only the Court of Appeal could do so. While refusing Maina's application, Bello maintained that he could not set aside the ruling he earlier delivered on Friday, refusing to make an order for status quo.
Maina had applied for the enforcement of his fundamental human rights at the court. On Monday, one of the counsel to the respondents, Ken Ikonne, brought an application seeking an extension of time to file his counter affidavit, written address and to enter a conditional appearance.
Counsel to the Inspector General of Police, who is the sixth respondent, Ngosoo Uchendu, did not oppose the application neither did counsel to Maina also. The court therefore granted the application as prayed.
The court also granted the Senate an extension of time to file a counter-affidavit written address and to enter a conditional appearance.
The court further gave the respondents three days to file their response and another three days for the applicant to file his reply on points of law.
The court later adjourned till February 26 for adoption of addresses.
Maina had applied to the court via an exparte, to stop the Senate from ordering his arrest because he had already filed a suit.