Cyprus Opposition Leader Extends Lead Week Before Vote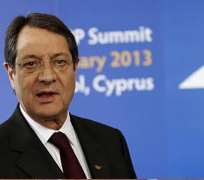 Cyprus's right-wing opposition leader has widened his lead over his two main challengers a week before presidential elections, three polls showed on Sunday, as voters looked for a fresh pair of hands to revive their struggling economy.
Support for Nicos Anastasiades rose above 40 percent in two opinion polls by the Phileleftheros and the Kathimerini newspapers, while state broadcaster CyBC put his rating at 39.8 percent.
In all three cases, the polls showed at least a 15-point margin over his closest rival, Stavros Malas who, like Cyprus's incumbent president, is backed by the Communists.
Just over half a million Greek Cypriots go to the polls on February 17 to elect a new president for a five-year term, with a runoff on February 24 if the first round does not produce a winner with an outright majority.
The winner will have to negotiate a bailout for the tiny economy, heavily exposed to the Greek debt crisis.
Cyprus has a presidential system of government where the head of state wields executive power. Incumbent Demetris Christofias, the EU's only Communist leader, is not seeking re-election.
Christofias has seen his approval ratings plummet over his handling of the economy since he was elected in 2008.
Anastasiades, 66, criticized the government for stalling on seeking international aid while the island was shut out of financial markets.
A massive munitions explosion in 2011 was widely blamed on state incompetence.
A bailout package for Cyprus, which could potentially amount to 100 percent of its Gross Domestic Product, is expected by April.
REUTERS