I ARRANGE GIRLS FOR PEOPLE-Nollywood Actress, Mimi Quaker Disclosed!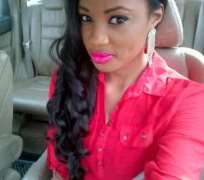 Nollywood actress, Mimi Quaker, who is believed to be a lesbian, has come out to clear the air on the allegation claiming that the girls she often displays on her BBM and other social media networks are the ones she arranges for people.
Hear her, "Most of the directors are my friends and they ask me to bring girls for music videos. So, I organise girls for their videos. All they do is ask me to bring girls with certain specifications and I search for girls with those specifications. Sometimes, I provide nothing less than five girls for a music video and what I do is to get paid from the girls' payment."
According to her, her models have to have some features required by her clients, "the shape is the most important feature. The girl must be very curvy with nice skin colour, not necessarily light-skinned and the height doesn't matter. The type of girls to choose often depends on the director's specifications. In some instances, the director may require a busty girl, big backside girl or even a slim-waist girl. Generally, a sexy curvy girl passes."
Mimi was probed again about her sexuality and she said an emphatic no to the lesbian question. In fact, she says she's in a relationship. She didn't mention the man's name and she talked as if he was an imaginary man, so-to-say.
When asked what attracted her to the man she claims to be dating, Mimi answered; "I guess the physique. I also like guys with a good set of teeth. He must also be handsome, tall, well-built and God-fearing." Mimi who said she started acting in the easiest of ways said she can take up any role in acting; exposing private parts, sex scenes, etc., after all it's make-believe.
"It was a bit easy for me. I met Chico Ejiro on Facebook and told him about my intention to go into acting. He invited me for an audition and that was how it all started for me," she said on how she started acting.