Jonathan Swears In Two New Ministers, Inaugurates Board Of Competitiveness Council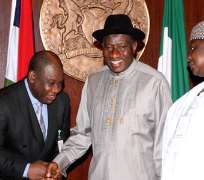 SAN FRANCISCO, February 04, (THEWILL) - President Goodluck Jonathan, Monday, swore-in two new ministers who will be assigned portfolios at a later day by the Secretary to the Government of the Federation, Anyim Pious Anyim.
The two new ministers, Chinedu Osita Nebo (Enugu) and Kabiru Tanimu Turaki (Kebbi), are expected to fill the vacuum created by the exit of the former defence minister, Bello Muhammad Haliru, who lost his job along with immediate past National Security Adviser (NSA), late Gen Andrew Azazi as well as the resignation of former Minister of Power, Prof. Barth Nnaji.
Speaking at the ceremony, Jonathan urged the new ministers to assist him in roving his mettle as a worthy instuctor, so that the confidence reposed on his administration by Nigerians will not wane.
"We are admitting two new ministers into our fold. From the profile we have heard about them, they are eminently qualified to serve this country at all levels. If it is political, they are eminently qualified to serve as councilors up to the president of the federal republic by their antecedents. But then, background qualification is one thing but serving as a minister is another thing because the challenges are different.
"One thing I believe is that you will succeed but to me is a big challenge on me and you because if a coach of a football team sends his 11 players and decide to make changes getting close to half time, then he knows that they may be weaknesses in some areas and he is bringing people to strengthen the team to make sure the score goals.
"So Nigerians are expecting that if I am bringing ministers in at this time, I must be bringing people that will strengthen the team and make sure I bring people that will score more goals than we are already scoring. And if Nigerians don't realise that they will feel that I am not a good coach. If they realise that, then they will know I am a good coach. So it's quite challenging for me for bringing you in at that time and also to you because they will expect you to perform extremely well.
"Just like when the coach introduces someone 10 minutes to the end of the game and you are introduced to the field, they expect you to score the next goal.So you are welcome on board; you will be formerly inaugurated again on Wednesday when we will have the FEC meeting. You will get your letter from the SGF who will assign you to where we think you will serve this great country. Congratulations," Jonathan said.
The swearing in ceremony came on a day the president also inaugurated the 18-member pioneer board of the National Competitiveness Council of Nigeria, chaired by the Minister of Trade and Investment, Mr. Olusegun Aganga.
Members of the board include the President, Manufacturers Association of Nigeria, Chief Kola Jamodu; President, Dangote Group, Alhaji Aliko Dangote; Director-General, Nigeria Economic Summit Group, Mr. Frank Nweke (jnr);Tony Elumelu and Ms. Funke Adekoya (SAN).
Others are: Prof. Esogbue Augustine, Director Emeritus at the Intelligent Systems and Controls Laboratory; Ms. Ike Yvonne, an internationally acclaimed investment banker; and Publisher, BusinessDay, Mr. Frank Aigbogun, among others.
The Council's objectives is to increase productivity, upscale sales for local businesses with view to expanding and creating more markets for Made in Nigeria products.
The Committee's term of reference include, to benchmark, monitor and evaluate and enhance Nigeria's competitiveness ranking; to make viable recommendation that will achieve consensus on policy measures in order to create a world class business environment and to proactively work with the private sector to improve their competitiveness and productivity.
Others are to create and release the report on Nigeria's competitiveness to guide Nigeria's development and policy frame work; To coordinate local efforts to stimulate competitiveness by communicating and cooperating with stakeholders through hosting of events, seminars and local level conference; To liaise with other similar bodies in other countries in order to improve on our business environment; and To help identify and publicise emerging competitiveness, sustainable development issues.
Jonathan said at the inauguration, "As you are aware, the objective of the Nigerian National Competitiveness Council is to enhance Nigeria's competitiveness by proposing policy recommendations that will create an economy that attracts domestic and foreign investments without focusing on, or benefiting any specific interest group or sector.
"For Nigeria to have its share of the global wealth, we must ensure that we improve our business environment and enhance the competitiveness of firms operating in our country. It is only then that these firms will be able to expand their operations and create more jobs and wealth for Nigerians and Nigeria.
"It is only when we have a competitive business environment that we will be able to attract foreign direct investment and make our country the World's Investment Destination. Your Board therefore owes this nation a duty to execute its task transparently and diligently. I have every confidence that you will not let our nation down."
Jonathan also commended the Tony Elumelu Foundation for its contributions to the ongoing efforts to promote competitiveness in the nation's economy.
Minister of Trade and Investment, who also addressed journalists at the occasion, said the council's objective "is to enhance Nigeria's competitiveness by proposing policy recommendations that will create an economy that attracts domestic and foreign investments without focusing on, or benefitting any specific interest group or sector."
The Chairman of Heirs Holdings and the founder of The Tony Elumelu Foundation, Mr. Tony Elumelu, on his part said the NCCN was a timely manifestation of one of the main thrusts at the Foundation.
"This is to advocate for laws that will allow our country's young entrepreneurial minds to achieve their business goals. By working with the Federal Government to create an attractive environment for foreign and domestic investors, The Tony Elumelu Foundation hopes to use the policies that come out of this arrangement to unlock sustainable growth in the private sector," he said.