TIME TO X-RAY THE EXCESSES OF ISOKO POLITICIANS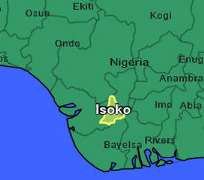 One of the problems presently confronting Isoko nation is the dubious ways of some of the Isoko politicians of sponsoring projects on the national and local media that never existed or completed in the region.
Some of the so-called elected or appointed Isoko political office holders from the local, state and federal levels have abysmally failed to inject infrastructural developments in the land rather looting the funds massively that are allocated to Isoko region over the years.
In 1999, precisely the then senator Stella Omu, former National Assembly member of the upper chamber used his political office to convince Chief James Ibori of the then Delta State Governor and Chief Olusegun Obasanjo to pay courtesy visit to Isoko nation to inspect high profile developments of the region and others. That brilliant political visit of the first class politicians in Nigeria brought total liberation of Isoko nation from mere marginalization to national recognition. Most of the Isoko projects were completed without qualms. The major issue is that some of the projects seen in some of the so-called local media that some Isoko voracious politicians claim to be completed are mere political chess game to deceive the present Delta State Governor, Dr Emmanuel Uduaghan that his leadership is being felt in Isokoland whereas the people are living in abject poverty.
Isoko nation has over 50 communities, only 5 percent presently benefitting from Uduaghan's administration in terms of leadership appointments and others while some are just representing their constituencies without considering other parts of Isoko nation that needed urgent attention of the State government. The recent flood disaster late last year that almost washed away all the Isoko communities while some of the relief materials sent to assist Isoko flood victims were diverted by some unscrupulous Isoko leaders who never wish the region well in all ramifications. Senator Stella Omu demonstrated her quality leadership to some extent to see the light of Isoko nation heading towards the Promised Land. 35 percent of Isoko infrastructural developments were sited and completed by then governor of Delta State, Chief James Ibori and Isoko people were few in his government. Most of the Isoko problems are being caused by avaricious and rapacious politicians who never wish Isoko people well in terms of intellectual leadership rather than be dependent of one region to get power and play second fiddle in Delta politics and nothing else. Though godfather politics played larger role in Delta politics in the last one decade which also brought Isoko region where some people claimed to be pioneers of the PDP in the region while those not qualified to be elected where conscripted on the people. To be candid, the excesses of present Isoko crop of politicians are yet to be checkmated rather glorifying phony projects never existed in the region. In fact, inflation of bogus contracts are more pronounced in this part of the region while Governor Uduaghan has failed to inspect some of the claimed and completed projects in Isoko region by some of the Isoko desperate politicians.
It is of view that some Isoko politicians have taken Isoko nation to the cleaners and making Uduaghan's administration in Isoko as a mockery of sort. Even some projects completed by NDDC and others are yet to be commissioned in Isoko region while most projects embarked upon by some contractors and politicians are mere fake and nothing else. It is sad that Uduaghan has botched to inspect some of the projects claimed to be completed on the pages of newspapers and magazines that never near completion. Even to the extent that some school projects in Isoko region that were sited by Uduaghan
was only completed and paid but never existed in Isoko. Some Isoko politicians have bought over some of these flustered youths to cause trouble in the region and promote distractions among Isoko people. Isoko nation is still volatile to development at all levels. Isoko nation is yet to have a formidable group or local media that would monitor the excesses of acclaimed politicians who have wickedly ruined Isoko nation over the years.
Again, Hon. Leo Ogor who has been elected for three consecutive times in the House of Representatives is yet to influence concrete projects in Isokoland. Some time ago when he was campaigning for his third term agenda when one local media through a firebrand writer criticized his acclaimed projects sited in his constituency that never existed and he immediately replied the writer and the publisher was bought over with bogus projects claimed to be completed. Can Hon. Leo Ogor tell Isoko people or constituency where he sited those claimed projects? Political appointees can never perform as political elected officers but the former have influenced projects that are visible in Isoko region than the latter.
The fact that nobody challenges some of the Isoko politicians that does not mean the people are not seeing what is unfolding itself in the region. The likes of Hon. Benjamin Efekodo, former Delta State House of Assembly member could not completed his second tenure because he failed to carry his people along when elected that prompted the victory of the DPP candidate, Hon. Benjamin Essien to secure the position in spite of the legal battle at the Supreme Court last year. God fatherism politics is gradually fading out of Isoko nation due to some self-appointed politicians who indirectly failed their masters after being elected into power. The like of chief Uturu is presently facing jail term at Kwale because he took Irri community as his personal property rather respecting the norms of Isoko people.
Though senator Okpozo and late Doyen of Isoko politics, Chief Ekpre Otobo of Uzere kingdom did their own best to salvage Isoko region through their intellectual politicking. Even Hon. Ericjo and Hon. Tim Owhofere presently serving their second terms in Delta State House of Assembly are yet to tell Isoko nation where the constituency funds allocated to them are being used for.
It is unfortunately that some of the self- styled Isoko politicians are playing to the gallery of Isoko people knowing fully well that they were elected to represent and serve the people. Comrade Samuel Macaulay Ovuozourie, the present SSG of Delta State has used his political office to influence some rural electrification and projects in Isoko nation without bias mindset unlike others who decide to spend their constituency funds on young lasses in the region. Governor Uduaghan needs to take his precious time to pay a courtesy visit to some of the Isoko communities like Ivrogbo, Ada, Uro, Ozoro, Ivori, Igbide and others to see some of the claimed projects by some dubious deviant Isoko politicians. All Isoko politicians whether elected or not everybody must be thoroughly scrutinized by those that voted them into power.
If the flood committee set up by Uduaghan is not properly monitored in Isoko region in the sense of cash disbursement to flood victims, some of the politicians would rather sidetrack or supplement themselves dubiously without any second thought .The likes of Comrade Sunny Ofehe, Isoko great Netherland Activist,Engr. Isaac Emiyede, Chief Godwin Ellu, Engr.Solomon Okpithe, Engr. Johnny Onozefe, Dr .Ben Obi, Chief Edwin Ozah and others should be invited to proffer solutions to Isoko problems while Chief Sokomon Ogba and others must be work assiduously to see that Isoko nation is moving towards greater height in 2015.
Written By GODDAY ODIDI

Disclaimer:

"The views/contents expressed in this article are the sole responsibility of

thewillnigeria.com

and do not necessarily reflect those of The Nigerian Voice. The Nigerian Voice will not be responsible or liable for any inaccurate or incorrect statements contained in this article."
Articles by thewillnigeria.com