CNN Interview: Jonathan Is Right On Security, Power,Says PDP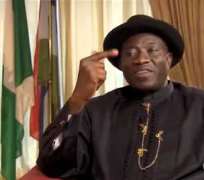 SAN FRANCISCO, January 25, (THEWILL) – The People's Democratic Party (PDP),Friday, gave its backing to President Goodluck Jonathan over what it described as the president's forthrightness on national issues, especially the Boko Haram insurgency in his interview with CNN on Wednesday.
In a statement issued by its National Publicity Secretary, Chief Olisa Metuh, the party gave its backing to the President's assertion in the interview, saying Jonathan was absolutely right when he declared that the Boko Haram phenomenon was not a product of misrule or poverty but a local terror group.
PDP also agreed with the President that there has been tremendous improvement in power supply in the country under the current dispensation.
"The President is correct on the issue of power. We all know that power supply in the country has improved tremendously under his watch and we have confidence in the President's assertion that Nigerians will witness tremendous stability in power supply very soon", the party said.
It noted that the interview once again shows the forthrightness, candour and simplicity of the President in addressing national issues.
Dismissing the insinuation that poverty is the reason behind the rise of the Boko Haram insurgency, the party argued that poverty is not a recent phenomenon in the country and therefore cannot form the basis of the sudden wave of criminal attacks on innocent victims, most of whom live within the poverty bracket.
"The President is right and we fully align with him on his position that Boko Haram is not a product of poverty or misrule as some people are suggesting. We agree with him that it is a local terror group.
"There have been successive regimes before this administration but this insurgency increased the same way terrorist activities are escalating in other parts of the world at this time.
" So it is clear that some people are out to perpetrate acts of terrorism in Nigeria to create a semblance of insecurity as it obtains in other troubled spots of the world." the party said in the statement.
The PDP also said it believes in the efforts by the administration to ensure the security and welfare of Nigerians in line with its manifesto and mandate.
It however urged those behind the violent attacks against Nigerians to have a rethink and understand that life is sacrosanct and that nobody has the right to shed innocent blood under any guise.
PDP also commended the President for the decision to deploy troops to Mali as part of the nation's commitment to working with other governments to root out terrorism in the sub-region.
On the power sector, the party said the President was correct on his declaration that there has been tremendous improvements under the current dispensation and assured that the nation will achieve an enviable level of stability in power supply before the end of the year.