JONATHAN: STILL WOBBLING AND FUMBLING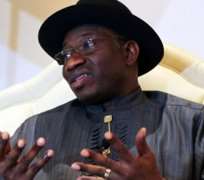 Few Nigerians cared to listen when, way back in 1998, Dr. Lema Jibrillu, the Kaduna based businessman, politician and community leader wisely counselled against a presidency on compassionate ground. His call came at a time the northern political establishment reasoned that the presidency should go to the south west to right the wrong of the annulment of the June 12, 1993 presidential election. At the time, Dr. Jibrillu was angling for the presidential ticket of his party, the then APP now called ANPP and did not see reason in his party joining the crowd. It was also a time all major political parties agreed to cede their presidential slots to to the south west.
Aside being undemocratic and anti democratic, Dr. Lema Jibrillu said then that playing politics on compassionate ground does not allow for the emergence of the right candidates. How prophetic! What the PDP succeeded in doing by imposing Obasanjo on Nigeria in 1999 and what Obasanjo succeeded in doing with Nigeria in 2007 when he imposed Goodluck Jonathan on compassionate ground have confirmed those fears expressed by Dr. Lema Jibrillu. The man should know: he is a veteran of presidential elections and Dr. Lema Jibrillu prosecuted one of the most effective presidential campaigns in the country in the early 1990's before what appeared to be a gang up emerged to sideline a man whose ideas were considered too revolutionary. Sadly, his 1998 counsel must have been dismissed for being too revolutionary.
Reports of a fallout between Obasanjo and his protégé, Goodluck Jonathan has firmed Dr. Lema Jibrillu's position on presidency on compassionate ground. What Obasanjo has been saying about Goodluck Jonathan, sensible as it sounds, will carry no weight because those words are coming from Obasanjo.By consistently lampooning his own creation for being being confused and ineffectual, Obasanjo is simply living up to his billing as a man who laps on the slightest opportunity to dance to the gallery. This holier than thou attitude is typical Obasanjo. It was only after he stepped down in 1979 that Obasanjo realised his successor, Alhaji Shehu Shagari, was unfit to rule. Beyond Shagari, he did not spare the other political gladiators of that era and actually depicted them as a bunch of unserious people. It also took the death of his hand picked successor, the late Umaru Musa Yar'adua, for the Obasanjo to raise the red flag. With the possible exception of Muhammadu Buhari, there is hardly any former Nigerian leader, dead or alive, who escaped Obasanjo's caustic tongue.
But Obasanjo's criticism of the President Jonathan has an unintended advantage. One major fallout is that, through Obasanjo's crusade, we may gradually be coming to terms with the scourge of leadership paralysis, one of the major drawbacks responsible for Nigeria's propensity to remain a toddler after fifty years of independence and for which Obasanjo is partly responsible. First in 1979 and again in 2007, Obasanjo foisted the wrong type of leadership on Nigerians as a way of covering up his own missteps. That he consistently lampooned the leaders he helped to power meant Obasanjo wanted to be seen as a better alternative to the weaklings he threw up. Let's get this straight: since October, 1960, Nigerians have not been lucky to have leaders who adequately prepared themselves for the tasking and taxing job of leadership. And this is one of the many problems with Nigeria.
At independence in October, 1960, the man who should have been prime minister and head of government, the late Sir Ahmadu Bello, Sardaunan Sokoto, opted to govern the north and ceded the throne to the late Sir Abubakar Tafawa Balewa. The obvious sign that Gamji apparently prepared himself for leadership role manifested in the indelible and enduring achievements he posted as premier of the defunct Northern Region. The trend changed in October, 1979 when, after thirteen years of military interregnum, the nation returned to civilian rule. In his own words, President Shehu Shagari was prevailed upon to drop his senatorial ambition for the presidency by his colleagues in the National Party of Nigeria who apparently saw him as a bridge builder. Though Nigerians were denied the opportunity to bid farewell to poverty in 1993,it is a secret of the market place that up till the tail end of 1992 and, especially until the death of Hajiya Simbiat Abiola, her husband, the late Moshood Kashimawo Abiola did not prepare himself for any elective office. He actually said he would be prepared to assumed office as an appointed head of government or something along that line. The year 1999 brought Olusegun Obasanjo in his second coming.
Prior to this second coming, President Obasanjo was serving a jail term for being an accessory to a coup plot, an offence which was criminalised by the military government Obasanjo headed from February, 1976 to October, 1979. Obasanjo was not a party to the formation of any political party and never dreamt of contesting any election. When he was released from jail, Obasanjo, always bedecked in his trade mark but now jettisoned half sized babanriga( flowing gown) made of atamfa (ankara) materials with over sized, 'ten gallon' traditional cap, the one derisively called kunne birki in northern Nigeria always cut the image of a pitiable man in dire need of rehabilitation. From every indication, Obasanjo needed the comfort of his bedroom rather than the campaign rostrum on which he was forced unto by those he was later going to, typical of him, run down. It was in that unprepared and ill prepared mental and physical state of mind that Obasanjo was foisted on Nigerians. Not surprisingly, he spent eight years on the throne barely knowing how to positively apply the enormous powers at his disposal for the common wealth. Very few Nigerians expected his hand picked and terminally ill successor, the late Mallam Umaru Musa Yar'adua, to make the mark.
If the selling point of the handlers of President Jonathan is a good guide, we may be tempted to assume that luck is all the president needs to transform Nigeria. For obvious reasons, the president could actually be said to be lucky in his fairy tale and meteoric rise to the top. Lucky man! Like Obasanjo, Goodluck Jonathan was always at the right place at the right time. Not many people get that chance. But then, luck, like every other thing has its limitations. And when it comes to the difficult job of governance, we are constantly reminded by history that the most successful, indeed the most influential and the most effective leaders did not rely on luck to excel; they laboured by preparing themselves for leadership.
Talking of luck, the story of Olusegun Obasanjo is a clear example of the place of luck in the affairs of men. He was on ground to collect the surrender documents from Colonel Phillip Effiong and thereby took the glory of 'ending' a task someone else had virtually finished the job. In 1976, he escaped the assassins' bullet to succeed Murtala Muhammad. In 1999 and for the second time in twenty two years, Obasanjo escaped the noose once again to clinch the presidency. Rather than sobering him, the former president, typical of most mortals, sees his own hands, not that of God, in his exceptional fortunes. Still wondering why he listed himself as a sure victim in the event of a revolution?
President Goodluck Jonathan is everything that Obasanjo is and is not. Unlike Obasanjo, Jonathan is adequately educated and conscious of his humble background. But like Obasanjo, he too was also ill prepared for the big job of president. Again, like Obasanjo, Goodluck Jonathan became president on compassionate grounds, someone who was foisted on Nigerians after his handlers threatened fire and brimstone if a man from the oil rich Niger Delta is not made president. Jonathan's rise reminds us of Obasanjo who was brought out of prison to be crowned president to assuage the Yoruba speaking south west. Luck, not competence or track record catapulted Obasanjo and Jonathan to the top job. Between Obasanjo and Jonathan, Nigerians should have realised that leadership on compassionate ground or leadership only grounded on luck has never worked. It does not work. The big question is: will 2015 be different?
Written By Abdulrazaq Magaji

Disclaimer:

"The views/contents expressed in this article are the sole responsibility of

thewillnigeria.com

and do not necessarily reflect those of The Nigerian Voice. The Nigerian Voice will not be responsible or liable for any inaccurate or incorrect statements contained in this article."
Articles by thewillnigeria.com