It Was All A Big Lie, Lance Armstrong Tells Oprah Winfrey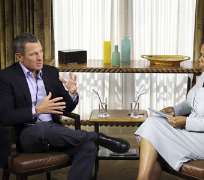 Lance Armstrong who was recently found guilty of doping and was stripped of seven Tour De France titles revealed all in an exclusive interview with Oprah Winfrey Network.
Lance cheated as a cyclist and lied about it, he also set up a charitable organization-Livestrong-through which he raised half a billion dollars and saved countless lives.
Today, Armstrong talked about his cheating and doping for the first time since the accusations surfaced at a taped interview with Oprah.
He said that the last time he doped was the year 2005 claiming he was clean between 2009 and 2010
Below are some of his words as he confessed to Oprah:
"I viewed this situation as one big lie that I repeated many times"
"All of the fault and all of the blame falls on me."
"I didn't invent the culture but I didn't try to stop it. And the sport is now paying the price. I'm sorry for that."
"My cocktail so to speak was EPO, transfusions and testosterone""
"It was a competitive time and we all made our choices but there were people on the team who chose not to dope,"
"I am now out of the business of lying to people."
"Yes I used banned substances"
"Yes I will do anything to win, at all costs?"
"It was win at all costs. When I was diagnosed (with cancer) I would do anything to survive.
'My career was reckless, I am flawed, deeply flawed'
"It did not feel wrong to win the Tour de France and I did not feel bad about it. I did not feel I was cheating,"
'Doping didn't feel wrong and it didn't feel like cheating. At the time. Viewed it "as a level playing field."
"The definition of cheat is to gain an advantage on a rival or foe. I didn't do it that way."
"…I will spend the rest of my life trying to earn back trust and apologise to people for what has happened,"
"I see the anger in people … the betrayal … the anger … and they have every right … and it's my fault.""
'There are people in this story, they are good people, we've all made mistakes, they are not toxic and evil."
He has just admitted to 15 years of deceit.
Olympics, Tour de France has asked him to return all the medals that he won and received in major biking competitions.