Jonathan's Failure To Appoint Minister Of Defence And Minister Of Power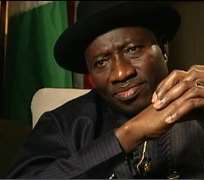 SAN FRANCISCO, January 16, (THEWILL) - On June 22, 2012, President Goodluck Jonathan sacked his National Security Adviser (NSA), General Andrew Owoye Azazi and his Defence Minister, Dr. Bello Haliru Mohammed.
The late NSA was immediately replaced by Col. Mohammed Sambo Dasuki (rtd); and the nation was told that a new defence chief – Mohammed's replacement would be "announced soon."
Now, it's been six months since and Nigeria still does not have anyone at the helm of affairs at the Ministry of Defence.
The Ministry of Defence is one of the most important ministries in Nigeria as the Ministry of Defence, in any country, is perhaps the second or third most important.
It is never to be left unmanned; and those who man it, are at all times, men and women of substance and integrity.
Another Federal Ministry that has remained without a leader since the exit of the previous Minister -- Professor Bart Nnaji left -- is the Ministry of Power. He allegedly left on his own volition because of what was perceived to be a "conflict of interest."
Within the Nigerian context, one could argue that the Ministry of Power is as important as the Ministry of Defence because, one of the factors that have inhibited the growth and development of the country -- and which has discouraged active foreign investment – is the epileptic and totally embarrassing power supply.
A country without reliable and uninterrupted power supply will find it very difficult to industrialise.
The President was said to have fired his security chiefs because of the worsening state of security in the country.
For instance, it was thought that the sectarian violence was getting out of hand and too uncomfortable for the president and the general populace to bear. Hence, there was a need for a change in direction as law and order was concerned.
However, in the months since the change of guard, the nation's security seems not to have improved. Internally, the Boko Haram sect is still as active and as deadly as ever.
From September through December 2012 for instance, more than two dozen innocent citizens were killed, and many others were maimed just as several public and private properties were destroyed.
In essence, the northern part of the country is now like a war zone.
In addition to the Boko Haram related problems, the Nigerian borders are as porous as ever. What's more, gangs and cults and street urchins and armed robbers and many other non-state actors continue to pose problems to the nation's security.
And on the external front, the country faces many transnational issues like drug and gun smuggling as well as money laundering that aids criminal gangs and terrorist groups that operate in and outside of the Nigerian borders.
In more recent times, piracy off the Nigerian coast has become a source of concern to both the people and government of Nigeria and their foreign partners. And then, there is the ongoing conflict in the West African nation of Mali.
All the aforementioned challenges and bedlams demand the personal attention and the intellectual resources of a Minister of Defence.
But unfortunately, in all of these instances, there is no capable hand – that singular mind – to attend to these problems and to diligently advise the President on what course of action to take.
Be it in the US, Canada, India, South Africa, or Cameroon, the role of the Minister of Defence is similar and these include: helping to maintain the men and women of the Armed Forces in anticipation of war and peace; helping to secure peace and security domestically and across the nation's borders; securing the happiness and welfare of those associated with the Armed Forces; and helping to modernise the nation's offensive and defensive capabilities.
While it is true that successive Nigerian governments have failed in many areas, nowhere is this failure more glaring and vexing than in the monumentally poor provision of power supply.
Since independence, Nigeria has never been able to provide the vast majority of its citizens and private enterprise uninterrupted power supply for a short or long periods.
Frankly, no aspect of the Nigerian state demonstrates this incompetence more than this public and decade-long failure.
With the appointment of Bart Nnaji, as the Minister of Power, it was said that "power supply increased by 40 per cent." Whether this was true or not, many Nigerians seem to have had hope in the former Minister.
Since his exit, the Ministry of Power, as with the Ministry of Defence, has basically become rudderless. How effective and forward-looking can a government organisation be without its leader? Who is in charge of strategic planning and implementation at the ministry?
According to public records, "The Federal Ministry of Power is the policy making arm of the Federal Government with the responsibility for the provision of power in the country."
And its mission, as the ministry has stated, is "to deliver more power to more people so that people can build our economy… so that children can study at night…so that our streets can become more secure…so that we can create jobs…so that this nation, Nigeria, can reach its full potential and become one of the 20 largest economies in the world by year 2020."
How then would the ministry reach its stated goals when it does not have a leader? And so, we implore President Jonathan to immediately appoint a Minister of Defence, and a Minister of Power.
While it is true that both ministries have Junior Ministers (Minister of State), it is our position that both organisations would be better off with its respective senior ministers.
In an increasingly volatile country in an increasingly explosive world, we cannot and should not be without a Minister of Defence, and a Minister of Power. Their selection and presentation before the Nigerian National Assembly is long overdue.
And while the selection process is going on, we implore the President to please appoint men and women of stellar character, education and skills. For instance, the Minister of Defence may or may not be a former military officer.
Nonetheless, he or she must have a thorough understanding of the way the new global system works. After all, national security is no longer just about military projections.
*** This editorial was written yesterday (Tuesday) and slated for publication today.
We however gathered that President Jonathan Wednesday nominated Kabiru Tanimu Turaki (Kebbi) and the former Vice Chancellor of University of Nsukka, Professor Chinedu Nebo (Enugu) as Ministers. Their names were sent to the Senate today for confirmation.