FCT 2013 Budget: Jonathan Presents N253bn To Senate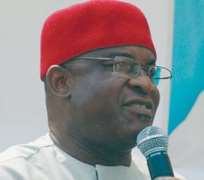 President Goodluck Ebele Jonathan has forwarded a 2013 budget proposal of N253bn to the Senate for confirmation.
In a letter from Jonathan, to the Senate, the capital budget is pegged at N155bn.
The letter read at plenary, by the Senate President, David Mark said "the Federal Capital Territory Administration (FCTA) has proposed a total sum of N253, 199, 752, 409 as its statutory budget with N155, 660, 399, 641 as capital expenditure, while the sum of N48, 034, 818, 410 and N49, 504, 534, 358 are for personnel cost and overhead cost, respectively.
"Pursuant to Section 299 of the 1999 Constitution which vests legislative powers over the Federal Capital Territory (FCT), Abuja on the National Assembly, I hereby present the 2013 FCT Budget proposal to the Senate of the Federal Republic of Nigeria" he said.