SSS Arrest Wanted Boko Haram Chieftain In Residence Of Former Rep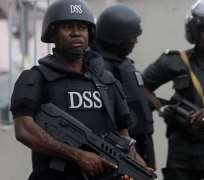 SAN FRANCISCO, January 13, (THEWILL) – The SSS has arrested one of the wanted leaders of the Boko Haram at the residence of a former member of the House of Representatives in Abuja.
Hassan Pagi Bukur was arrested on Saturday in the Gwarinpa district of Abuja at the private residence of Honourable Tijani Umar Kumalia, a member of the lower house between 2003 and 2007, according to reports in the local media, which quoted an unnamed security source.
A security guard employed by Honourable Kumalia, a politician from Borno State, the spiritual headquarters of the Boko Haram, was also arrested by the SSS.
The unnamed source also revealed that the former lawmaker was interrogated by SSS officials and released.
The detained Boko Haram leader, Bukur according to the security source was responsible for handling stolen vehicles used by the Boko Haram in its deadly car bombings.