Why PDP Can't Win Lagos—Obasanjo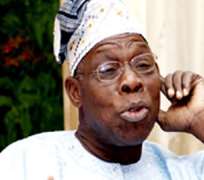 Former President Olusegun Obasanjo has explained why he thinks  the Peoples Democratic Party does not stand a chance of wresting power from the ruling Action Congress of Nigeria i Lagos
According to him, so far the PDP remained divided, its dream of kicking out the Action Congress would remain a mirage.
Obasanjo urged leaders of the party in Lagos to place its interest above of that of individuals in order to form formidable force strong enough to win the state in 2015.
According to him, PDP as a party is in wilderness in Lagos and its therefore imperative for leaders of the party to work together and restore it to the right path.
The former president spoke when the PDP executives in Lagos State paid him a courtesy visit at his Hilltop residence in Abeokuta, Ogun State.
'If only the leaders would sink their ego and regard the party's interest as supreme and above that of individual, then the party will come out strong and able to wrestle power from the ruling party,' Obasanjo said.
He thanked his guests for their concern for him, particularly on the fire incident which ravaged his home last week.
Addressing reporters, the Chairman Lagos State PDP, Mr. Tunji Shelle, said they were in Abeokuta to commiserate with Obasanjo over the fire incident and to also seek advice on how to move the party forward in the state.