Jonathan: FG's Winning War Against Terrorism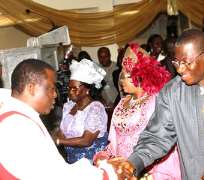 SAN FRANCISCO, January 01, (THEWILL) - President Goodluck Jonathan has declared that his administration was winning the war against the Boko Haram terrorists.
He said many of those involved in various acts of terrorism across the country have been nabbed.
Speaking Tuesday at a New Year service held at the Saint Anglican Church in Abuja, the president attributed the arrest of Boko Haram members who attacked the Police headquarters in Abuja, the United Nations building and the Saint Theresa's Church in Madalla to the diligence of officers and men of the country's security services.
Jonathan, who promised that the security services would be improved this year, however said prayers is the master key to winning the war against terrorists.
"The church's prayers have been helping us to stabilise the country at the time of challenge. There was time the country was drifting and everyone thought the country will not endure but the prayers rescued us.
"We shall overcome terrorism, kidnapping and armed robbery with more prayers from the Church.
"Most of the terror suspects have been arrested. Most people will not know what the security agencies have been doing. The people who bombed police HQ, UN House and St Theresa's Catholic Church in Madalla have been arrested. We will continue to improve security architecture," he said.
Jonathan,who was accompanied to the Church service by his mother, the Minister of Police Affairs, Capt Caleb Olubolade (rtd) and Minister of State, FCT, Ms. Olajumoke Akinjide, also re-assured that the new year will be better for the country.
The President said the Federal Government would focus on employment generation to enable more Nigerians to be gainfully employed.
"We have a huge population and we will continue to provide employment for our people and encourage entrepreneurship," the president said.
In his sermon titled, Circumcise Your Heart, Pastor of the Church, Rev. Nicholas Okoh, said urged Nigerians, including the students, academicians, clergy, businessmen, civil servants and politicians, to purify their hearts and change their ways in the new year.