In New Year Message: Jonathan Assures; Says Government Will Not Be Distracted By Critics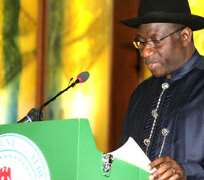 SAN FRANCISCO, December 31, (THEWILL) - President Goodluck Ebele Jonathan has assured Nigerians that the Federal Government is determined to improve upon service delivery to all citizens and will therefore not be swayed by critics whose ultimate aim he said, is to make his government falter.
He therefore urged all Nigerians to be steadfast and supportive of his government, which he said, wants to explore all avenues to bring forward previous and new government policies for the improvement of the living conditions of Nigerians.
The president, who said these Monday, while delivering his New Year message to the nation also stated that democratic practices will deepen assuring all citizens that no one is above the law because under his leadership every citizen has a level playing field and is therefore free to partake in any legal enterprise he choses without any fear of unfair treatment.
"Our objective for the year is to ensure by all possible means that more of the programs and projects envisioned by this administration, some of which have already being embarked upon, are brought on stream within the next 12 months to meet the yearnings of our people, and raise their quality of life," President Jonathan explained.
Continuing, he gave a breakdown of the sectors that his government has made a 'positive transformation' in the lives of the people citing the massive improvement in public infrastructure, power supply, oil and gas, transportation, education, health and agricultural development.
"We will continue to work diligently in 2013 to ensure that our efforts in these areas are carried forward to full fruition in fulfillment of our promise of better public services and improved living conditions for all Nigerians."
In the coming year, he assured Nigerians, the Federal Government would lay emphasis on mitigating the havoc caused by rains. He assured that priority would be given to works relating to flood and erosion control, roads rehabilitation and expansion, improved power supply, as well as the improvement and rehabilitation of the existing rail network.
The New Year, President Jonathan assured, is the year that employment generation and wealth creation will be placed much emphasis on saying that the "socio-economic agenda for 2013", includes "creating more employment opportunities for our youth and graduates of our universities.
This is an imperative that will continue to underpin our drive for massive economic growth, the rapid expansion of our manufacturing and industrial base, and the productive diversification of our national economy. In this regard, we will continue to provide the necessary enabling environment for the private sector to thrive."
The president also commented about the increasing spate of violent crimes across the federation as he also gave an assurance to all that the national security set up was up to the task.
"We will also do more in 2013 to further empower our security agencies who are working in collaborative partnerships with our friends in the international community to stem the scourge of terrorism in our country and enhance the security of lives and property in all parts of Nigeria.
"I say it again; we are determined to continue to push forward. We will do more, not less. We will remain focused," he pledged.
Concluding, President Jonathan threw a challenge to Nigerians to include in their New Year resolutions "a commitment to do more this year to support the implementation of the Federal Government's Agenda for National Transformation in every possible way. The task of making our dear nation a much better place for present and future generations cannot be left to government alone. Leaders and followers alike have critical roles to play in our march towards the fulfillment of our great national potentials.
"Let us all therefore resolve as we celebrate the New Year to place the higher interests of national unity, peace, stability and progress above all other considerations and work harder in our particular fields of human endeavor to contribute more significantly to the attainment of our collective aspirations."