7 Reasons Why Arsenal No Longer Need Wenger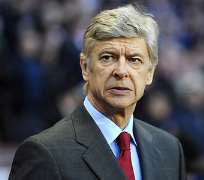 ARSENAL'S humiliation at the hands of Bradford in the League Cup marks a low point in the reign of Arsene Wenger and could signal the beginning of the end for the French manager, who has been in charge for 16 years. The Gunners fielded a close to full-strength team against the Bantams but only narrowly avoided losing in 90 minutes and were eventually knocked out in a penalty shoot-out. The pressure on Wenger is growing and it now looks as though the unthinkable could be about to happen – a full-scale revolt among the fans with Arsenal supporters calling for the manager's head.
There was insubordination in the stands during the match against Manchester United at Old Trafford and unbridled anger rained down on Wenger and his team after defeat by Swansea at the Emirates earlier this month. A poll in The Sun this morning found more than 60 per cent of voters wanted Wenger out. After seven years without a trophy and another fruitless season in prospect, fans can be forgiven for asking exactly what Wenger's leadership does for Arsenal. The seven pillars on which the Frenchman's success was built are now crumbling:
ATTRACTIVE FOOTBALL: This season Arsenal are top of the Premier League table in terms of possession and second only to Manchester United in pass completion. Yet they lie in seventh place in the league and have lost a quarter of their games. Wenger has instilled a belief in the passing game at Arsenal, but they no longer execute it with the same ruthlessness as they used to. Arsenal sit mid-table when it comes to shots and shots on target, and their brand of football is being successfully aped by the likes of Swansea. They are not as good as Barcelona and the old questions about their one dimensional play remain.
URBANE LEADERSHIP: The sight of a bespectacled Frenchman managing an English side was novel in 1996, but not any more. Wenger may have helped create a niche for highbrow managers, but the likes of Jose Mourinho and, more recently, Andre Villas Boas and Michael Laudrup have developed the theme. Modern British managers like Brendan Rodgers have combined aspects of Wenger's managerial approach with old-school attributes to good effect. Meanwhile, anyone who has seen Wenger in his bizarre full length puffa-jacket can testify to the fact that he no longer looks quite as urbane as he once did.
TRANSFER NOUS: Observers marvelled at Wenger's ability to sniff out good young players when he first arrived at Arsenal. He brought dissolute winger Thierry Henry from Juventus and turned him into the most feared striker in Europe. Nicolas Anelka arrived aged 17 for £500,000, and left two-and-a-half years later for £22.3m. Wenger demanded that Arsenal sign teenager Patrick Vieira. Wenger's worldwide network of scouts became the stuff of legend. But every big club now has that kind of system and Arsenal can no longer operate 'under the radar'. And when it comes to choosing established talents, Wenger's recent track record is average at best. Gervinho cost almost £11m and has been a major letdown. And for every Santi Cazorla there has been an Andrei Arshavin or Marouane Chamakh.
YOUTH POLICY: It is often said that one of Wenger's legacies will be the Arsenal's fabled youth system. However, a quick look at the first team squad shows that only a handful of players have actually made it through the system into the team. Many of the younger players (Jenkinson, Ramsay, Walcott) were brought in from other clubs. What's more, Arsenal's youth system is by no means new. Under Wenger players like Ashley Cole and Cesc Fabregas have come through its ranks, but club legends like Tony Adams, David Rocastle, Pat Rice and Liam Brady were also academy graduates.
MOTIVATION: The Gunners boss does not rant and rave like traditional managers, but instead treats the players like adults. However, his charges have not responded of late. As the website Goal.com put it: "This poorly-constructed squad is Wenger's, and he does not seem to know how to get the best out of it."
DIET AND TRAINING: When Wenger first arrived he was ridiculed in some quarters for insisting that his players paid more attention to their diets. In 1998 even the BBC chortled at the fact that Arsenal players had to watch what they ate. "Where footballers once lived on a diet of steak, the Highbury players are more likely to eat boiled white meat, such as chicken or boiled fish, served with mashed potatoes and boiled vegetables – particularly greens like broccoli," it marvelled. That sort of attention to detail is now commonplace.
FINANCIAL PRUDENCE: Wenger has overseen the successful move from Highbury to the Emirates and there is no doubt that if trophies were awarded for sensible control of the finances Arsenal would be top of the table every year. However, Wenger has laid himself open to criticism on this front as well. While Alex Ferguson, for example, steers clear of politics and concentrates solely on football, Wenger has wedded himself to the board's long-term business plan for the Gunners. Their failings are partly his.
As Goal.com points out: "Wenger will not be sacked, and nor should he be. But support for his job security is becoming less to do with the brilliant qualities he has brought to north London and to the Premier League in more than 16 years as Arsenal manager, and more to do with the tailspin it is easy to imagine the Gunners sliding into if they parted with a figure who has been so influential for so long."
Disclaimer:

"The views/contents expressed in this article are the sole responsibility of

pointblanknews.com

and do not necessarily reflect those of The Nigerian Voice. The Nigerian Voice will not be responsible or liable for any inaccurate or incorrect statements contained in this article."