Joseph Yobo To Sue Over Party Stories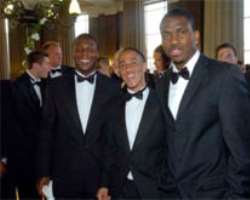 Everton stalwart Joseph Yobo has told Goal.com that he plans to sue some Nigerian newspapers over a story that suggested he went nightclubbing to celebrate his birthday only hours after Nigeria failed to beat Tunisia in a crunch World Cup qualifying match in Abuja.
Yobo has dismissed the rumour, insisting it is "callous gossip from the pit of hell".
Reports in a section of the local media suggested that the Eagles' vice captain hosted a party, while millions of fans were left dejected after the country's dream of playing at next year's World Cup in South Africa was left hanging in the balance.
"It's annoying, because what's been written is an absolute lie and unbelievable," Yobo told Goal.com.
"It's a callous and vicious gossip because I was extremely down. [I was] shattered and reflected on the game with my family all through the night.
"If the gossip were true, it clearly showed I am not fit to wear the national team colours or worthy of it's captaincy."
An angry Yobo added, "I got texts congratulating me on my birthday. But I was not thinking about it, remaining focused on the big game at hand because there will be many birthdays in my life."
The Everton defender has now decided to take legal action against the newspapers that published the false report.
"This is a callous and vicious report to pull me down, but my lawyers are on it now," he disclosed.
"It's unfortunate what has been said and written about me since they published this when I have been in grief for the draw on Sunday, like every Nigerian football fan.
"We disappointed over 150 million people with our performance, yet some people would have the heart and guts to party? That is absolutely unbelievable!
"If they can prove that I went out that night, I will quit the national team for good. That we failed collectively is enough rather than make me look terribly bad."
It was only in June that Yobo, along with Portsmouth's John Utaka, chartered a private jet to fly to Tunis for the first World Cup clash, which ended in a goalless draw.
Yobo did not spare his team-mates after their lethargic performance on Sunday, revealing that they deserve the media and public backlash.
"We let our country, family and ourselves down and need to rescue what is left of our chances, hoping we can still qualify," he said.
"Hopefully, we can do that but right now people should know the truth about what happened and not feed on lies that will make things worse for the team."
Nigeria are second in Group 2, two points behind leaders Tunisia with two rounds of matches yet to be played. Only the group winner will be on the flight to South Africa next summer.
By Sam Audu(Culled from Goal.com)
|
Article source