Ekweramadu discards Uwais reports on electoral reforms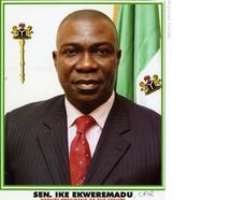 After several periods of foot dragging and much perceived efforts believed to be in futility, the deputy Senate President and Chairman adhoc committee on the review of the 1999 constitution, Senator Ike Ekweremadu has called for a three tier plan to amend the Nigerian constitution, assuring that the exercise would be thorough and all inclusive.
He has also ruled out the possibility of using Justice Muhammed Uwais committee report on electoral reform between the processes of amending the constitution. He explained the preparation made so far by the committee towards ensuring a successful amendment of some aspects of the 1999 constitution are due to commence next month in Abuja. He said the committee will only amend the parts that are relevant to the conduct of the 2011 elections Nigeria. He declared that over 50 memoranda from concerned Nigerians over the constitution amendment have been recieved.
According to him the contents in the documents show how concerned Nigerians are about the sustenance of democracy and good governance. On a wide spread clamour by some Nigerians for the total recommendation of Justice Uwais reports on electoral reforms, Senator Ekweremadu said the reports remain the document that would be considered b the committee alongside other memoranda as the amendment exercise is not about the Uwais report.
The work however look like a final nail on the coffin of a state creation, the Senator enumerated constitutional factors militating against the idea. He gave the assurance that the constitution amendment exercise is a serious one and the national assembly is not out to deceive Nigerians.
''…Unfortunately the provisions of the constitution relating to the creation of state as far as I'm concerned is ambiguous. So what I have advocated all this period is that we need to look at section 8 of the constitution regarding state creation and see how to remove those ambiguities or create or try to strengthen it in such a manner that those who wish to create state will ask us for state creation, and we would be able to go to this without going through legal and constitutional difficulties. So we have 2 options either we amend that act because it was in pursuant to the electoral body we had then called National Electoral Commission today we have Independent Electoral Commission, so we can amend that act to make relevant processes today by removing some of those provisions relating to 1979 constitution based on which it was enacted, that is one process.''
Secondly we can amend section 8 and provide a clear sense, who will need to do what and what needs to be done. If you look at that section 8 it was talking about referendum, it didn't say who will do the referendum, or who will vote, it talked about a two-third of a federation, is it in terms of the people, or in terms of the representatives. So these are the things that need to be cleared in the 1999 constitution or we have to amend the act the 1982 act, to enable to provide procedure for its amendments. And once we have these legal difficulties out of the way, if you now want state all you need to do is to tell your representatives to apply for a state to the national assembly who will now look at it and now vote.''